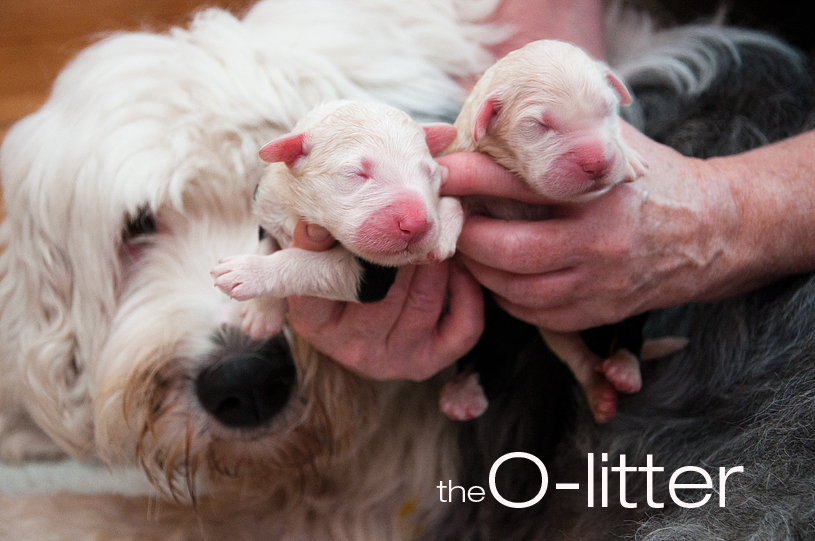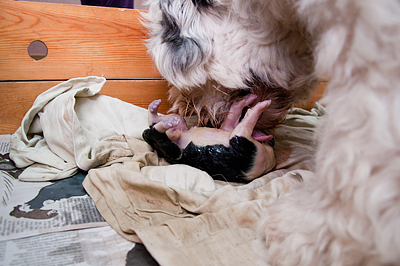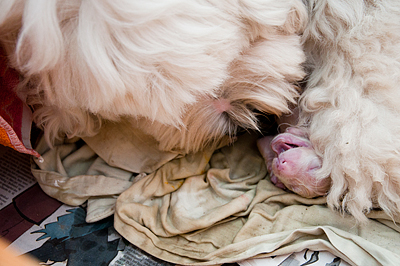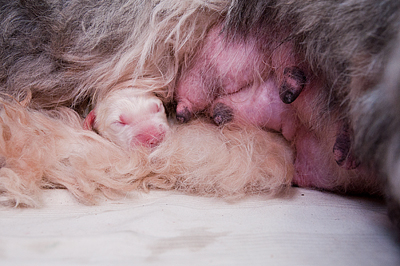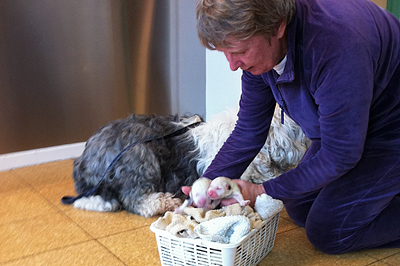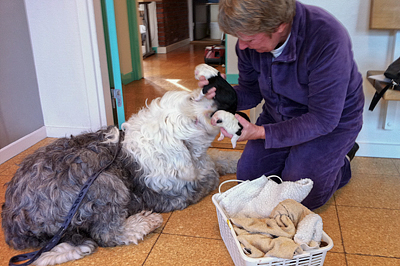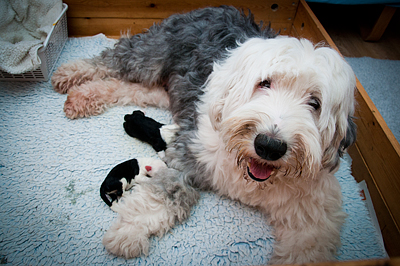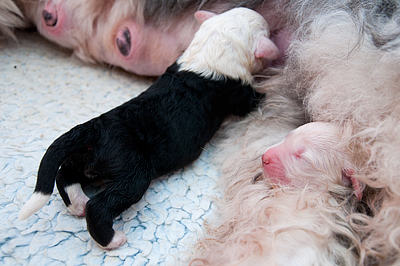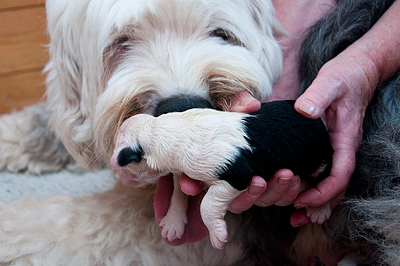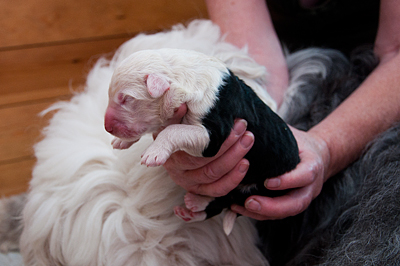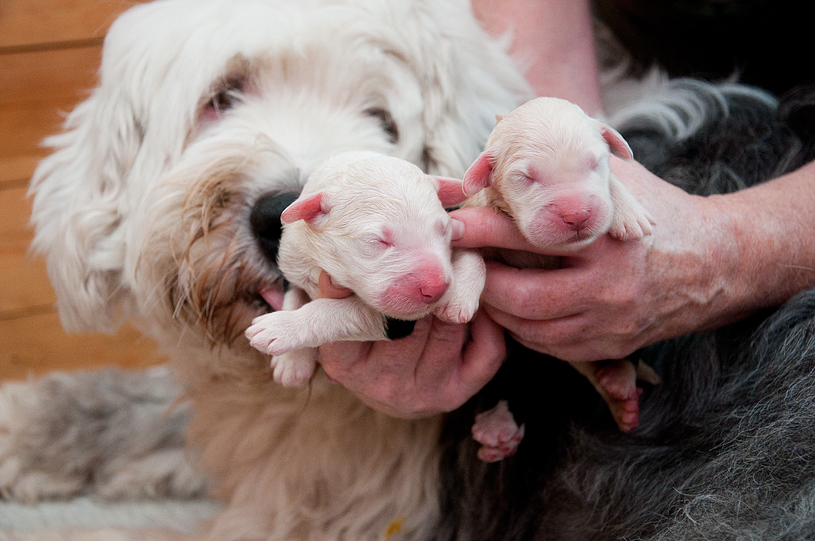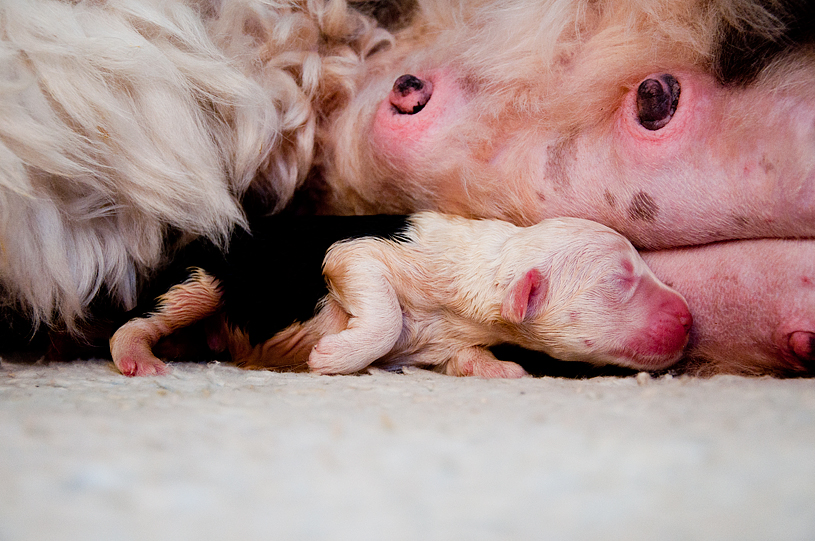 First dog being born normally at 10 a.m. Friday.
Maise checking and washing.
Birte with the two boys at the vet clinic. Maise still a bit tired. Maise fell a sleep with one boy and woke up with two climping on her!
At home with Mummy's Boys.
That's the way: One working, the other one sleeping.
The second who was born by Caesarian section.
Maise taking care, that everything goes allright, when her boys are up for the photografer.
I'll go for a drink....see you soon!
Life doesn't always turn out the way you plan.
Maise has given birth to our O-litter. It was tough, it was with Caesarian section, and only two male dogs came out alive from the three-male-dog small litter
If everything goes well, and they develop to be healthy, at least two puppy buyers out there will be happy.
We have lots of puppy buyers on our list that we have disappointed by now.
Finally we ourselves are really down, since we planned this insemination for one purpose: We should keep a puppy to ourselves in our future breeders work.

Everything seemed normal, as Maise gave birth to the first handsome male puppy Friday morning. But then a couple of hours passed, and there were no serious labour pains, so we contacted the vet.
We went to the clinic, and Maise had extra chalk and pain stimulating medicin.
Drove home, waited and hoped that this would start the birth of the puppy, the vet could feel was ready inside her.
But no matter how hard poor Maise pressed, the puppy would not let go.
Off we went again to the clinic with Maise and her first puppy. Caesarian section was the only solution.
An hour later we picked up Maise and saw what had caused the problem: A third male puppy had died inside Maise some days prior to the birth. The dead puppy had blocked the way out.
Bu the vet managed to get the third male puppy out alive. A beautiful guy with lots of power, weighing 550 grams. Maise fell a sleep with one puppy and woke up with two naughty boys climping on her!

What caused the dead puppy we don't know. But we were depressed as we drove back home, yet happy to have Maise and her two boys alive.
Now they are in our bedroom in the big puppy box. The two boys happily drinking from her ten udders! So the job fro here is to bring them safe into the future and make sure they don't get too heavy!

Maise is alright and as usual she is taking really good care of her puppies.
Her temperature is high, but that's normal after a birth.

We have contacted those puppy buyers who have the opportunity to get the puppy they wanted from us.
We have also contacted those, who will not get their dream puppy.
Nature is unpredictable. In our time as breeders we have had really many wonderful litters – some of them even very big – and everything has went well, and everyone got the puppies they wanted.
But not this time.
So it was mend to be.

We are already talking about, what to do to go on from here. Alonso's sister Toddi will be mated in August, and hopefully that will be an opportunity to give the puppy buyers a puppy of their choice. Furthermore we are talking about mating Maise again, when she been through another season.
We really would like to keep a puppy from her.
But first of all it is a matter of giving the two Blue Berry dogs a super childhood..
Maise and we are already doing the job.