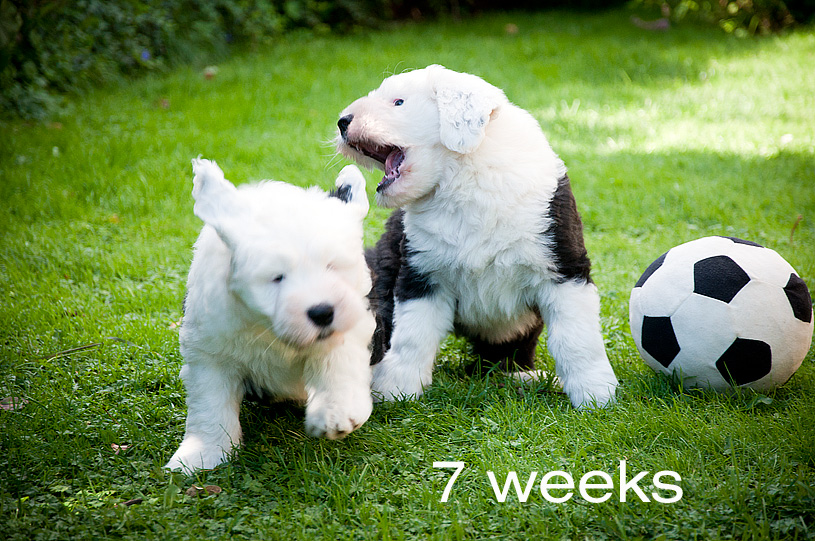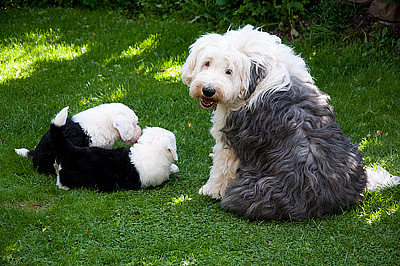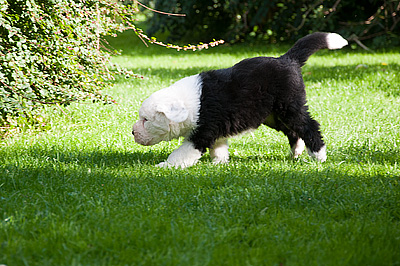 The count down has started. The puppies are 7 weeks, and Saturday we shall say goodbye to Louis.
It is hard, because we have come to love him and brother Neo more and more every day.
Neo shall stay with us for two more weeks. It suits his new family best. Maise and we are pleased with that. Then we'll have some more time together.

Week 7 is always busy. This time has not been different.
Friday they were microchipsed and now they have a number in the kennel club. Later Friday Helle Mulvad came and made a mental test of the pups.
One at a time the pups are presented to special events: Are left alone in an unknown room. Take contact to Helle, whom they have never met. Play with her. Fetch a ball. Discover new things. Get an umbrella opened in front of them. Are presented for a noisy sound and are being turn on their backs.
The purpose of this is to show the mental strength of the puppy. This will be a fine tool for the new family to handle different situations with the puppy.

Monday we drove to the vet to have the eyes examined, to get a general health check and to get their vaccinations. They also got a dog's passport, so now they are ready to travel out in the world.

At home in the garden the two pups have begun the autumn digging! They also run around and try to catch each other or fight loudly, that is if they don't lie down in a bunch and sleep very close together.

We enjoy following them, and we know it will be hard to say goodbye. But we also know that there are two families out there looking forward having them.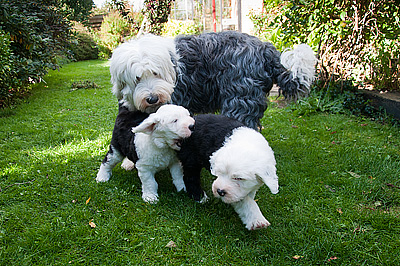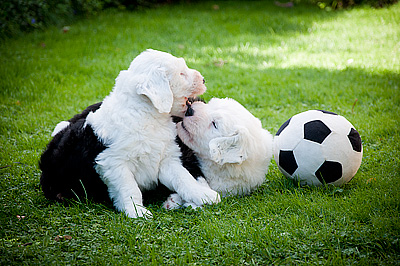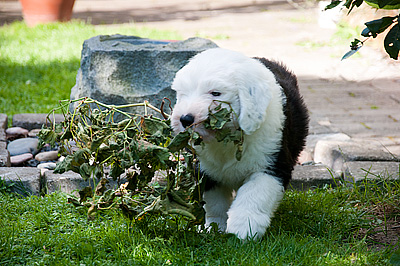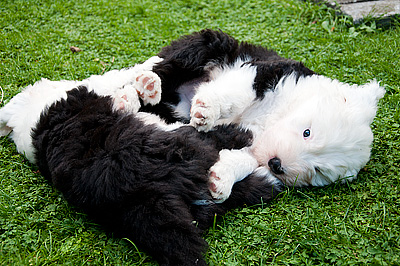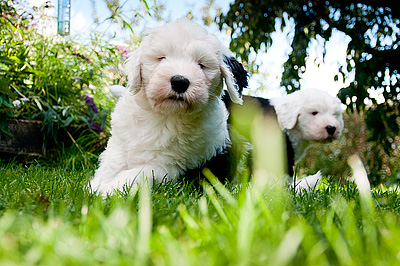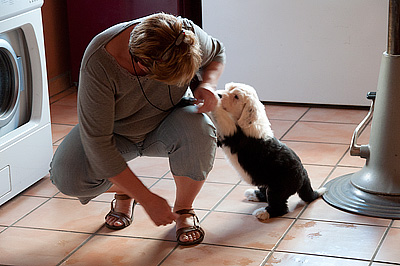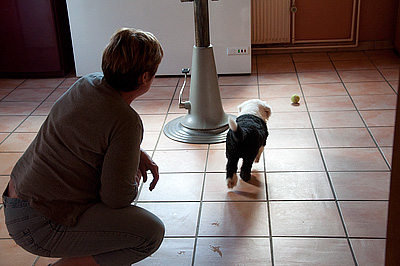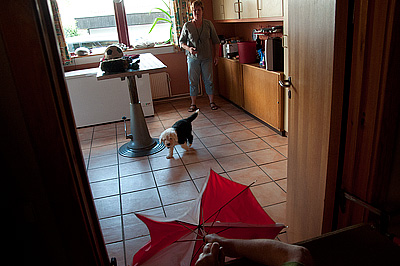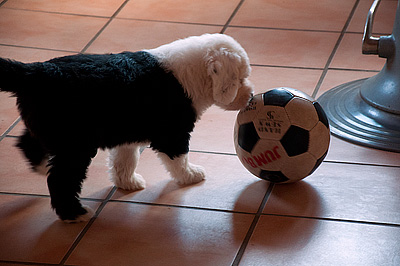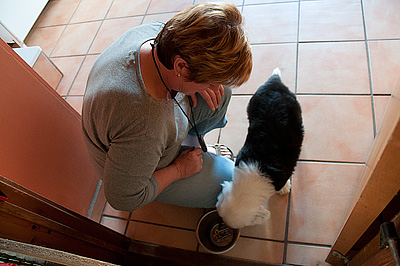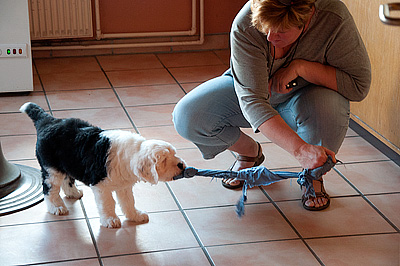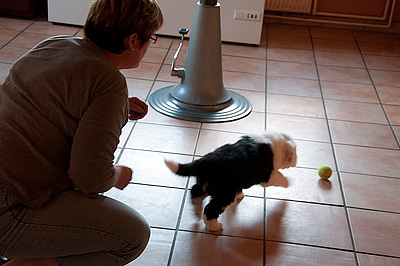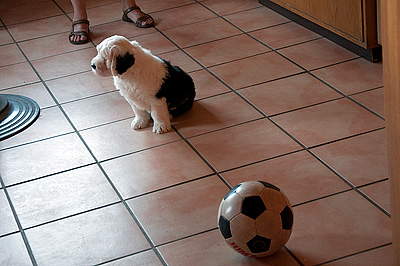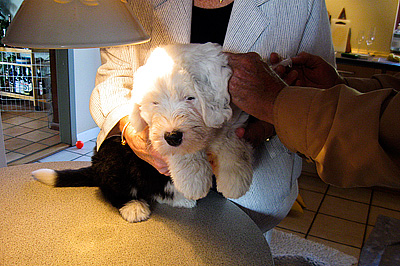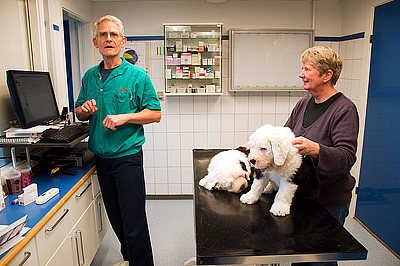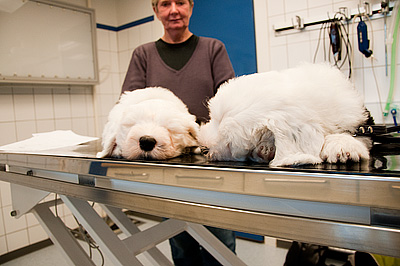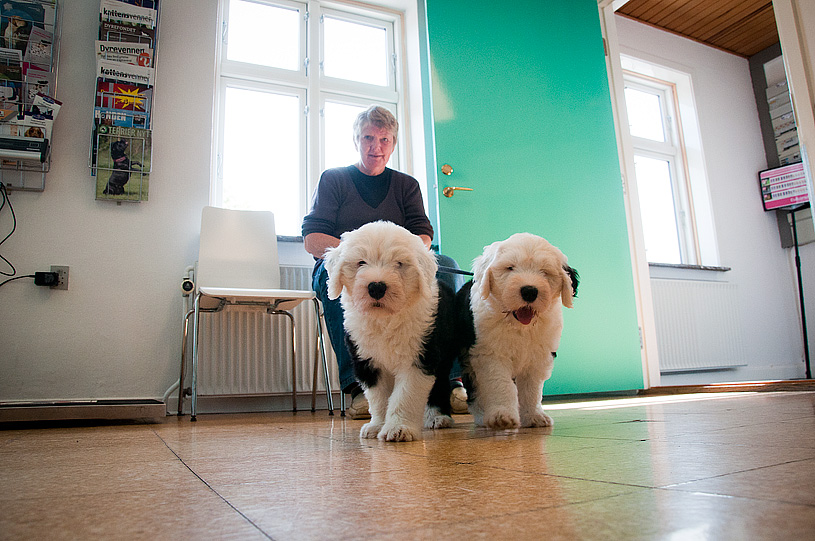 The puppy takes contact to a stranger. Neo likes to say hello.
Neo really wanted to fetch the tennis ball.
Can the puppy motivate himself? Four things on the floor.
Neo didn't like the umbrella - in the beginning.
Neo examinating a new object.
Keys are thrown in a metal-ball. Sounds loud. Needs to be checked.
Louis felt like pulling. It show his domination.
Louis ran after the ball, but didn't bring it back.
Nice ball. So what? This is boring!
Neo getting the microchip.
Flemming Obling, Taastrup Vet Clinic, examined the two pups. He also brought them to this world with the Caesarian section.
We get tired from being examined by the vet....!
Neo and Louis with Birte iin the vet clinic.