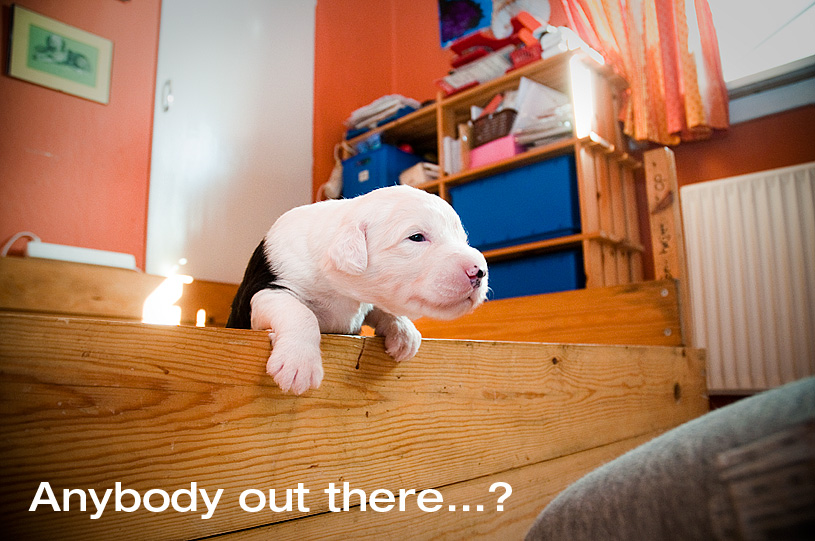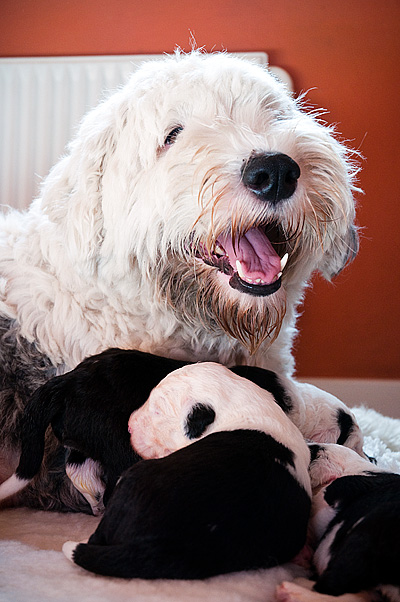 To weeks have gone. We are all getting a good rhythm. Maise is out with us most of the time. But every second hour she goes into the puppy room. She prefers to lie on the floor outside the puppy box. So we bring her the puppies. There's plenty of space here, and every one can easily come and have a drink.

The puppies go crazy, when they smell their mother coming into the room. They run around shouting and barking for her. When they have had their milk, it's time for Maise to clean them. So they investigate the room; they have gotten more brave and curious. They want to find out what's going on beyond the safe carpet they and mummy Maise are lying on. But walking on the slippery floor is not easy. Though everyone is up on their feet, they are not quite steady.

Eyes are open on everyone. Yet it's too early to tell what colors we might expect – even though many have asked for it already!

This weekend, for the first time we have allowed puppy buyers to come and visit the litter. We wanted the first two weeks to be peaceful for Maise. But Sunday the first family arrived. Maise didn't take any notice of the visit, and the rest of our dogs enjoyed company. Finally someone who wanted to caress them!

Birte has cut the nails on all 10 puppies. Their claws had become long and they were like knives in Maise's belly. Some kind of a cutting-job for Birte. But she did it just after they had their milk. They were tired, so it was a fine time for that.