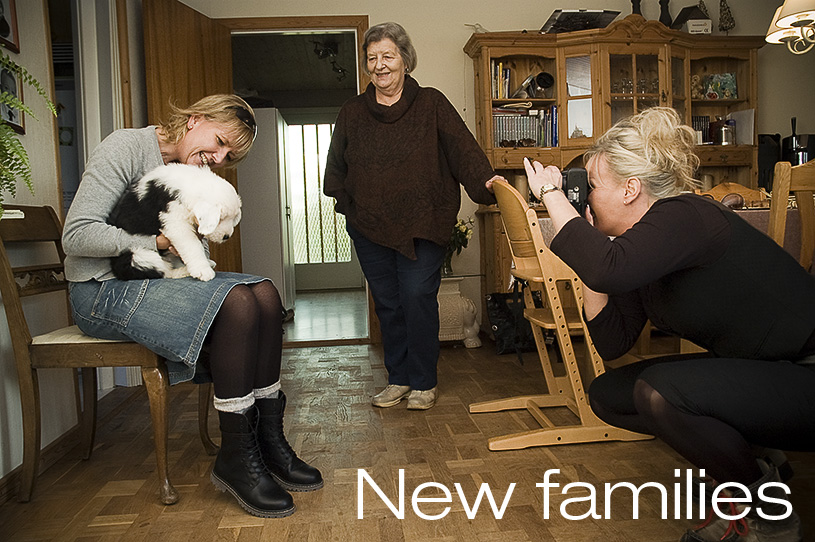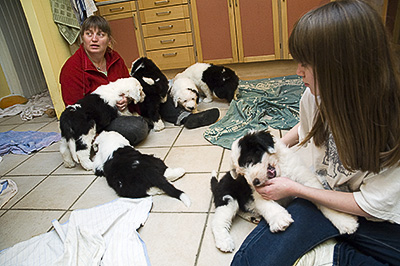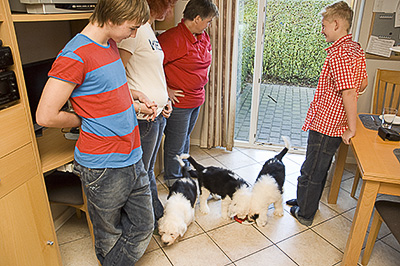 Friday, Saturday and Sunday the L-litter slowly got minimized in our home.
The puppies were 8 weeks old Friday, and so it was time to make new homes and new families. Before they were picked up or delivered, we managed to have the group-photo taken (watch the puppysite). And we took single photos of every puppy.

Friday Lis and Ann from Hvalsø came to take Toddi home. They also have Fnuggi from our J-litter, and he definitely missed dog-company!
Saturday we had arranged with the four families from Jutland, that we delivered their puppies. First we drove Alsonso to Vamdrup, where he now lives with the Chow Chow Louie and the rest of the family Iversen. At first Alsonso got a bit frightened of Louie, but now they have become really good friends.

So we drove to Fredericia. We had the home of Heidi, Jan and son Magnus (who have taken over Louis) as base for the Jutland-pick up. Here we met with Lene from Århus, who should drive home with Molly (she brought a friend to drive the car) and Anne-Marie and Ove from Nibe, who now are the owners of Lukas.
Heidi made a nice cake, and while we made the paperwork, the puppies ran around in the house and the garden. Many pictures were taken and there was lots of dog-talk.

We drove home later in a very quiet car! In our home Tina (who is the new owner of Luna) took good care of our for grown up dogs and the four puppies left. Thanks, Tina!

Sunday we drove to Tårnby (Amager), where Ludvig was greeted. First by the neighbours on the road, and then by Vivi and Ole in their house.
Back home again it was very quiet with only three puppies.
We have heard from all of the new families, and the small ones took the changes super. Cried a bit, but that was all. They soon continued to eat, sleep, investigate, pee, play and go for walks like the should.

The three last puppies leave this weekend. At the moment they play together and have a good time. We enjoy them, knowing that very soon it is over.
But that's life. Breeding puppies is wonderful, but demanding. There is always something that has to move away for the small ones. It cuts our hearts, when we have to let them go. But we also know that they expect very much from life. Demands that other people now have to fulfil.
We have enjoyed the first eight weeks so very much. Now new families get the rest of the lives of nines puppies to bring joy and happiness. We hope they will really enjoy it!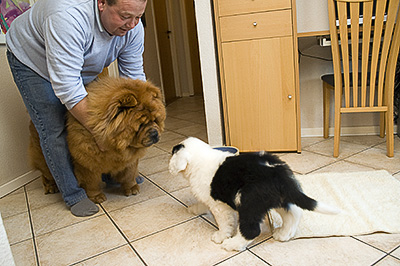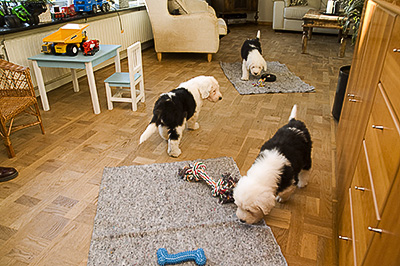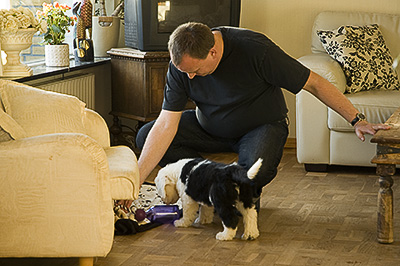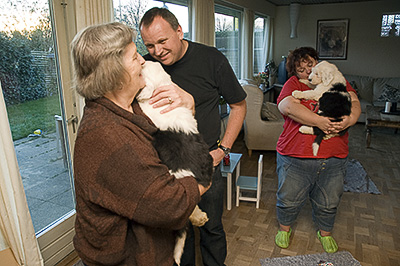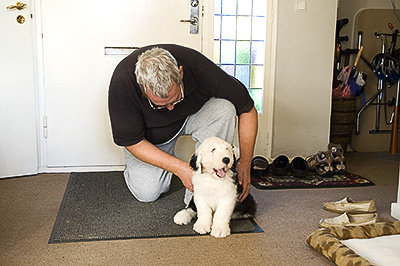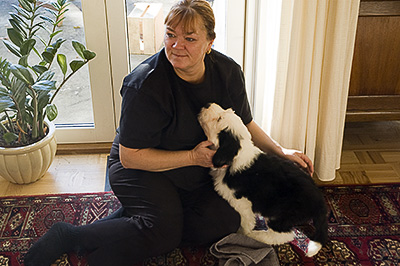 Molly being "shot" by Lene, who has taken her over now. Lenes friend is holding her, while Anne-Marie (who got Lukas) watches.
Lis and Ann comes for Toddi (right) and hugs some puppies!
In Vamdrup the puppies got a break.
The house in Fredericia is investigated.
Alonso not quite sure about Louie, while Lars holds him.
Anne-Marie with Lukas (Jan watching) and Heidi with Louis.
Jan shows Louis some of the new toys he could play with.
Ole shows Ludvig the new home in Tårnby.
Vivi on the floor with Ludvig.