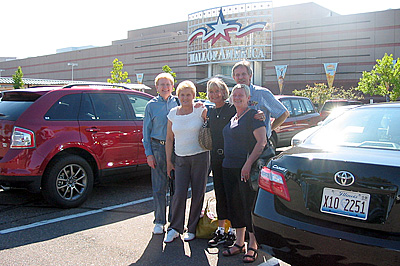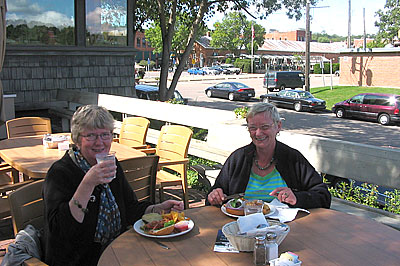 The US Old English Sheepdog Specialshow this year took place in the area of Minneapolis with judge Diane Andersson. Since Pam has tried to encourage me for a long time to come and visit her in Vermont, all I could do was order the airplane-tickets for a tour which included six flights during 14 days.
Together with Herdis and Torben I left Copenhagen the 14th of September. Heading for Chicago, where Torben met with Dortemarie. Together the two of them drove to Minneapolis, while Herdis and I took a plane to Minneapolis. Here we were picked up by some of the show-organizers and driven to our hotel in Stillwater just outside Minneapolis.
The Specialshow lasts five days from Monday to Friday. There is herding, agility, obedience, judge-seminar, meeting of the year, health-seminar, different shows, special welcome to foreigners, BBQ and final dinner.
Since our hotel did not accept dogs, mostly judges and foreign guests stayed there. So Diane's room quickly became the meeting place for us all.
It was a wonderful reunion with old friends, and new ones followed.
In between the different shows we had time to do some sightseeing in the little, cozy town of Stillwater, beautifully situated next to the river St. Croix.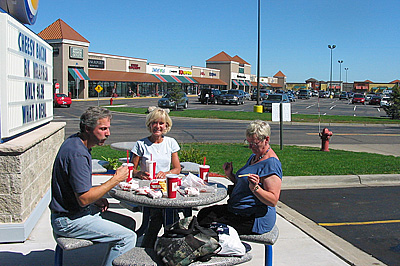 Torben and Dortmarie rented a car and kindly agreed to drive Herdis and me to an outlet in Albertville. What an opportunity for our shopping-abilities! We went to several nice clothes shops – and I found out, why people who come to USA bring lots of extra suitcases!
Together with Norman Harrison and his traveler's companion, Esther, we went to see Mall of America – the largest shopping center in the States, with a huge amusement park in the center of it all. But we all preferred the outlets to the Mall. There were nice clothes to small prices.
Back to the dog show – the main purpose of the Minneapolis visit:
The show ground consisted of two halls – cold, dark and not at all nice.
After the preliminary shows the halls were decorated and heating was turned on, getting ready for the "Top Twenty" show in the evening. The 20 most winning OES' in USA are invited to come and show. Three judges, giving points and declaring the results during the evening dinner, judge them. Judges, handlers and guests are dressed to party, and they enjoy cocktail sticks. The winner this year was: Am Ch Lambluv Gambolon Sultry Wind.

Thursday Diane judged males in different classes. In the open class, the winner was Ch. Aryakas Cosmo Junior (granddad to our L-litter). He came all the way from Austria. But in the "Best dog" competition he was beaten by Velubal Tumbleweed Expresion (only 10 months old).

Friday started with the bitch classes and in the open class in was Swedish Ch Villa´s Cruella at Dizzny who became first and Greek Ch Rollingwiew Aryakas Electra as second. Diane chose Cruella as best with Barckshire´s Victoria's Secret as reserve.
So it was time for Best of Breed. 35 handsome champions and best male and best bitch entered the show ring. A beautiful sight.
As Best of Breed Diane picked Ch Villa's Cruella at Dizzny and in Best of Opposite Sex she picked Ch Ken-Bear's N´Wigglebottom's Pippin.

Congratulations to the three European OES, who did very well.

Friday night we had dinner in a local restaurant. Nice food, lots of talking and afterwards we had a good time in Diane's room.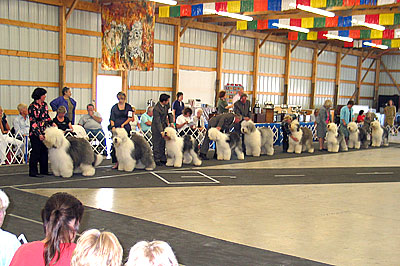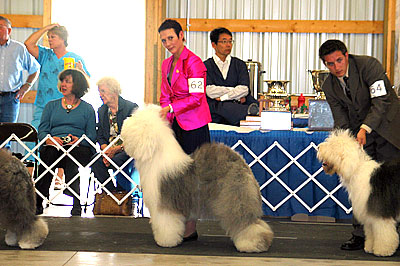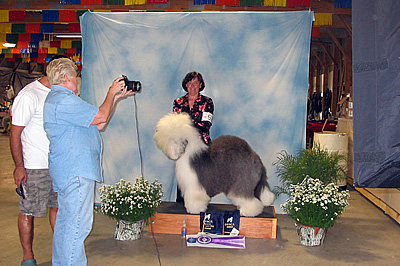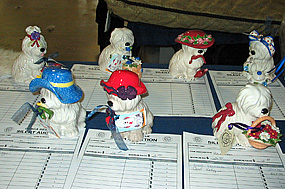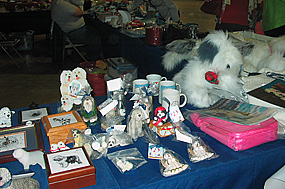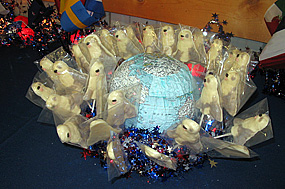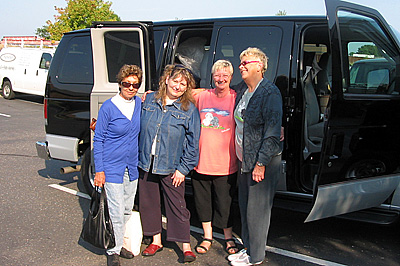 Saturday it was time to say goodbye. Torben and Dortemarie should stay until Monday. Herdis drove with Diane, Barb Hamilton-Wagner and Joanne Sewell to Diane's home in Ohio. I was taken to the airport, catching a plane to Pam in Vermont.

Thank you, Torben and Dortemarie, for driving us around, and showing us the fine art of power shopping, and to you and Herdis thanks for wonderful traveler's company.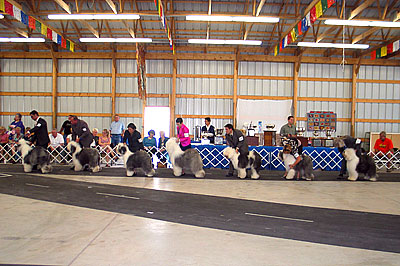 Birte and Herdis on a café in Stillwater.
Ingela with Ch Villa's Cruella at Dizzny.
Diane's chokolade-lollies to the guests.