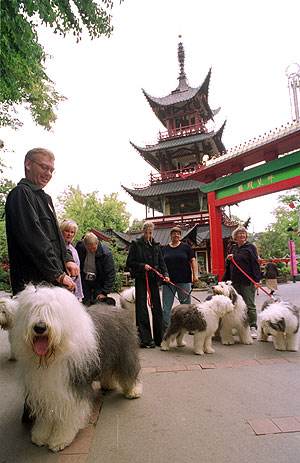 Tivoli was open for dogs 2nd of September. Its been sort of a tradion for us to show up and have a good time. 12 OES' and their families joined this year, and the OES was the breed best represented of all.
The Danish Kennel Club had taken most of the day for arrangements as breed-parade, breed-presentation and different shows on the big scene.
So after that we very hungry!, We went to the italian restaurant who tempted dogs and dog-owners to come in by serving pasta and meatsauce for the dogs outside.
But it showed that the waiter inside deffinately didn't like dogs and he was rude to both dogs and dog-owners. So next year we have to find a better place to eat.
Poul Erik Dyrvig even tried to look at the bright site of things by offering the guests coming after us to have a free meal if they were able to bring a smile upon the waiters lips.
The waiter who heard this had no sense of humour at all - it seemed.
But apart from this event the pizzas were good and all in all we had a nice day.
Our dogs were admired, and all 12 took the noice and fuzz in Tivoli very, very nice.
What's the need of a dogs mental test when all you have to do is to go for a walk in Tivoli!


Click at the small pictures to make them bigger.