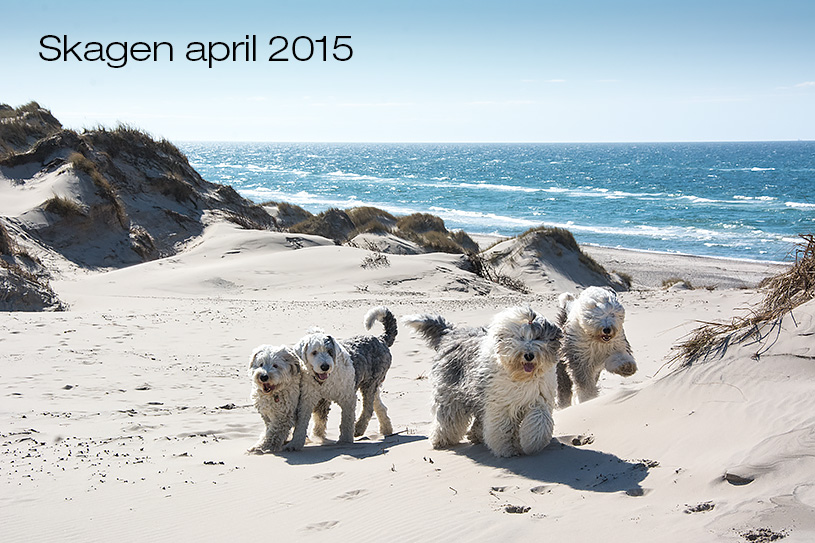 The excitement that our dogs show, when the car stops at the summer house in Aalbæk after many hours driving, and they jump out and run around on the lawn like spring-happy calves. That's worth the whole journey! It's holiday, and they love it.
So do we, and the dogs can feel it.
We drove to North Jutland in April. Booked Jørgen's sister Helle's summer cottage which was the base for wonderful trips in the area.
Just like we use to do. Just like we love it!
It's all about getting out to walk in the plantations, on the beach and in the forests. It's about going to the local harbour and buy fresh fish. It's about relaxing and just enjoying life.
We came with Maise, Alonso, Snowy and Tiffany. We stayed there about a week, and apart from two days with rain the sun was shining the rest of the holiday. It was quite windy, but from northwest, so we were able to find shelter on the terrace. Every day we had lunch on the terrace, even though it was only the beginning of April.
Our trips went to Aalbæk plantation, to Skagen, to Råbjerg Mile, to Den Tilsandede Kirke south of Skagen, to Tversted plantation, to Skiveren, to the Westcoast and much more.
The dogs loved running with the waves at the seaside and jumping up and down the huge sand dunes. But they also enjoyed limping along with us in the forests, finding lots of new smells in the soil.