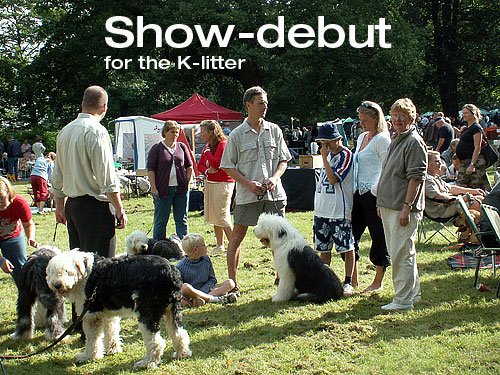 Keegan, Conrad and Maise had their show-debut 4th of September in Silkeborg, Jutland.
We met 10.30 but waited four hours to enter the showring. So the puppies had lots of time to play, get groomed, roll in the grass, get groomed again, and then - after one more time of playing in the grass - to get groomed again.
We thought they were tired, as they came in to the ring. But no! They stille had the power to drag their handlers arround in the showground. So a little showtraining might come in handy before next show!
Judge was Wenche Eikeseth from Norway. Her very friendly behaviour made the first show a good experience for the pups.
Best was Keegan, who became second best of all baby-puppies at the end of the day.
So his family Holm was very proud, when they drove back home with two beautiful rosettes.
The day ended, as on all OES-shows, with a nice, homemade OES-dinner. While we enjoyed the beautifull view over the lakes of Silkeborg, the dogs nosed around in the grass, where they found dogbisquits.
Conrad with mate Guffi, behind him Maise and then Keegan relaxing in the beautiful surroundings of the Silkeborg show-ground.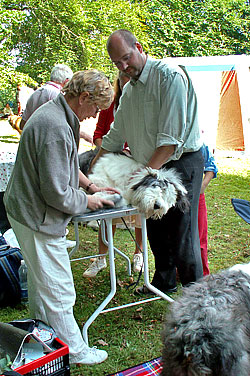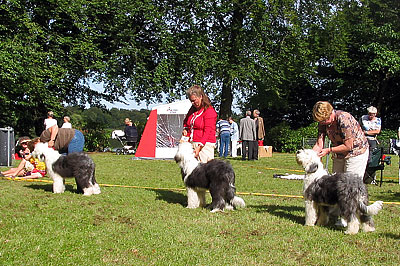 Keegan, Conrad and Maise in the ring.
Conrad getting groomed by Birte, while owner, René, gets some good advices.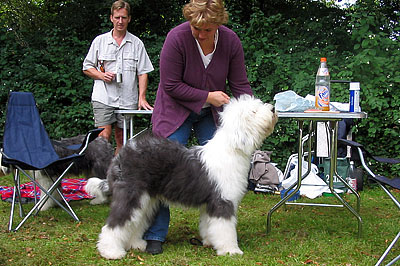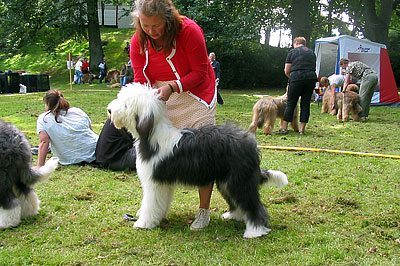 Lene handling Keegan, and he did well in the ring.
Henriette handling Conrad.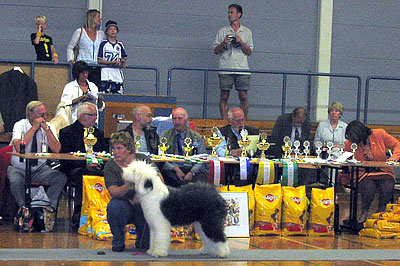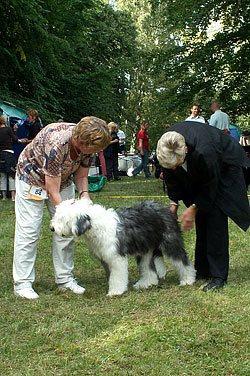 Keegan was best baby and went on to the final judge in the big ring at the end of the day. Here he god a second place. Very well done for his first show. Behind him his family is wathcing Lene handling..
Right is Birte handling Maise. Norwegian judge, Wenche Eikeseth, was very friendly and liked the three puppies vcery much, she said.