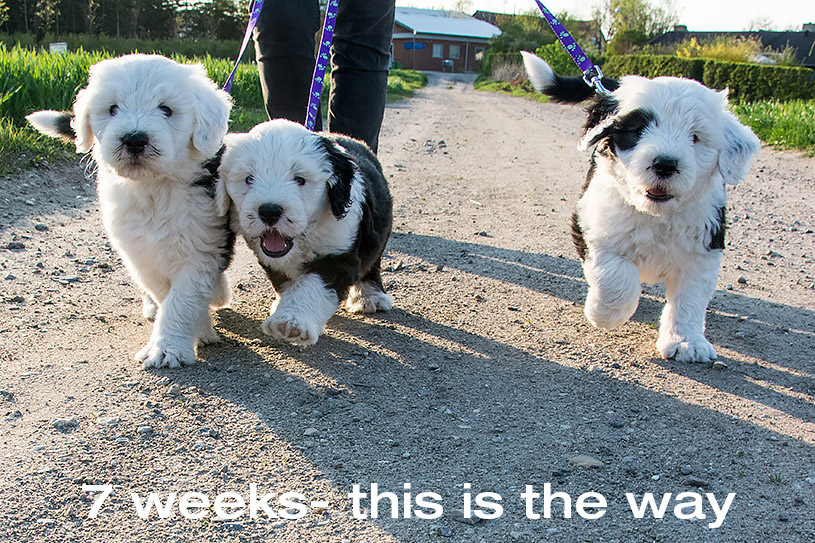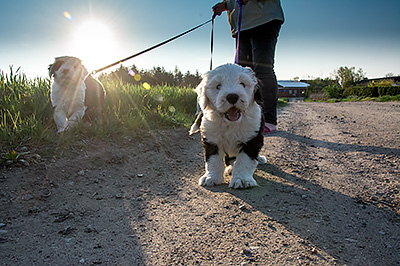 The puppies are seven weeks and it has been days full of challenges and a huge development.
Each day the pups are on the grooming table. They get collar and lead on, and we take them for walks in new places.
The last couple of days we have taken them for drives in our car, and they take it calmly. The ride has a break midway, when we take the three of them out for a short walk in lead.
Saturday the father of the litter, Neo, came to see us together with his family from Ystad in Sweden. The family were pleased with the litter, but Neo actually preferred that we took notice of him instead of the pups. But he went nicely together with the small ones, and Snowy said OK to him visiting her kids.
Sunday Uncle Teddy came to see us and the pups – especially his coming little brother. Søs and Christian should have one of the puppies.
Monday the litter was micro chipped and today, Tuesday, we took them to vet Engelhardt in Værløse for vaccination and eye- and health-check. We were indeed relieved to ave the positive result: all three puppies were healthy and there were no remarks in the eye-certificates.
The puppies love to play around in our garden, and they have for sure become fast runners now!
Snowy plays with them very often and teach them to become adult dogs. Also ant Maise is happy with the kids. But Alonso thinks they run around too much. He prefers to watch them from the other side of the puppy gate.
Friday we shall have the litter mentally examined. Then we decide which male should go to Silkeborg and which male should go to Søborg. We look forward to that – and shall keep you up to date next week!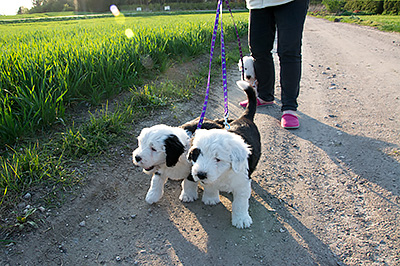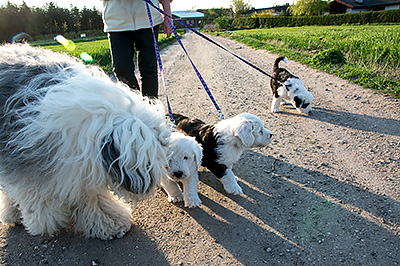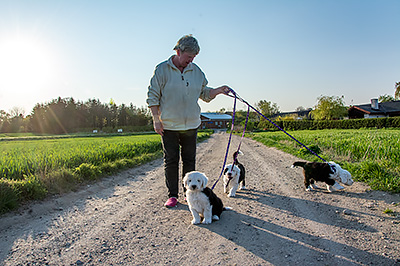 Next to our house is a narrow road, where we take the puppies for a walk. The first time Snowy came along to support.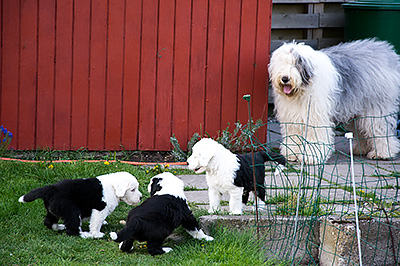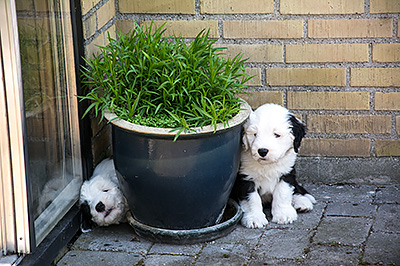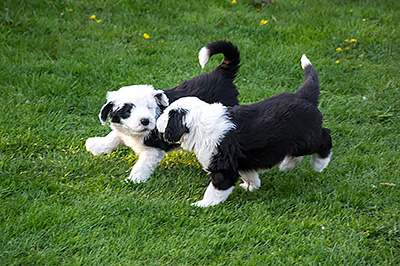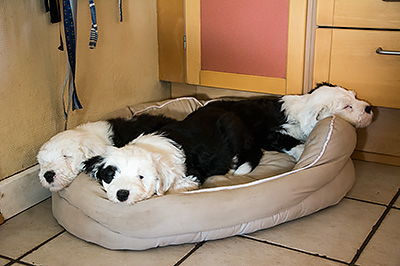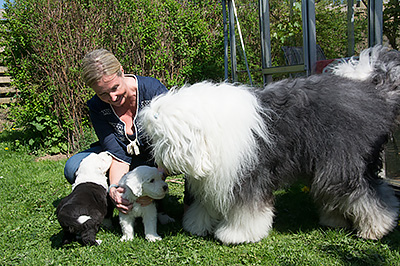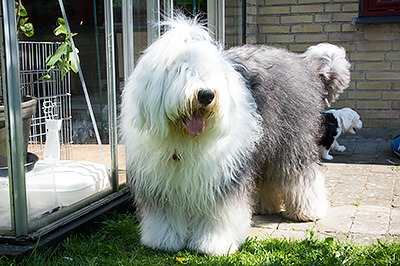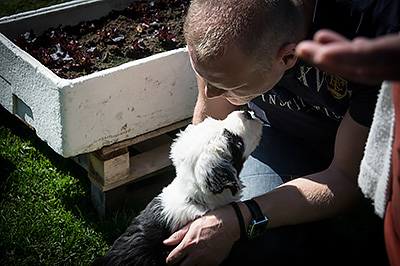 The other day Neo came to visit us with his family from Ystad in Sweden. Neo is the fasther to the litter and the pups seemed very interested.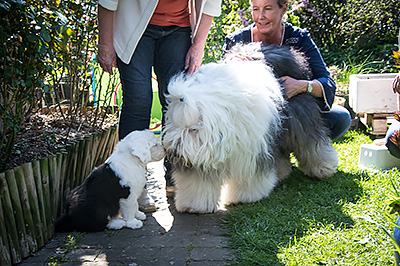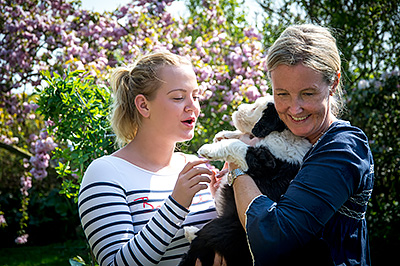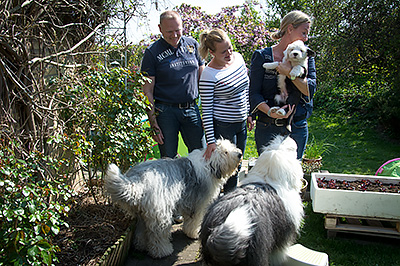 Evelina and Cecilia with a puppy. To the right Snowy has come to the garden to meet Neo and the other gus.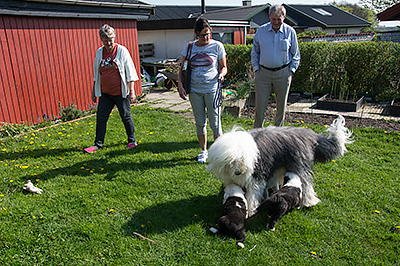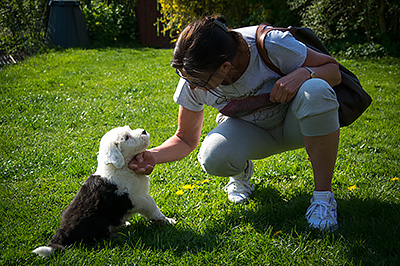 Uncle Teddy came to see us together with Søs and Christian, who should have one of the male puppies.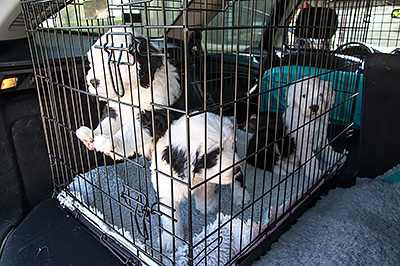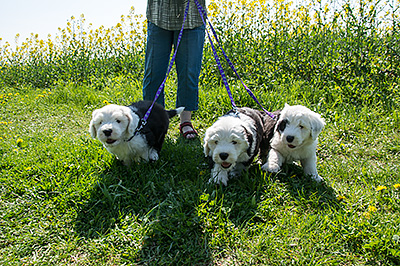 Each day we take the pups out for a drive. They are in a cage. For security and to keep them calm. Midway we go for a hort walk.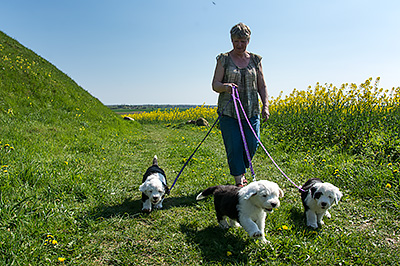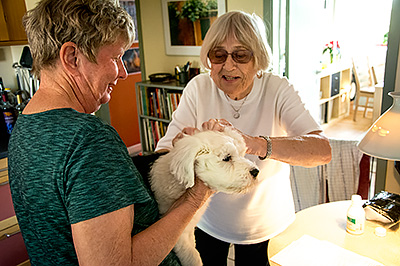 Walking in sforeign places is part of the program. The other day the litter should have micro chips in them. It took place in our house.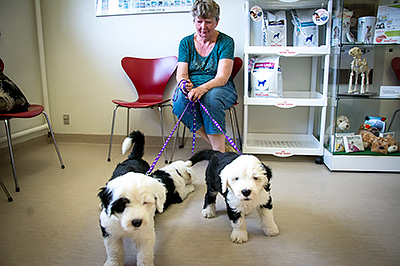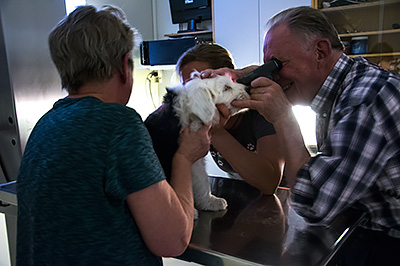 Tuesday we drove to vet Engelhardt for an eye- and health check. We were so happy, because everything was normal.