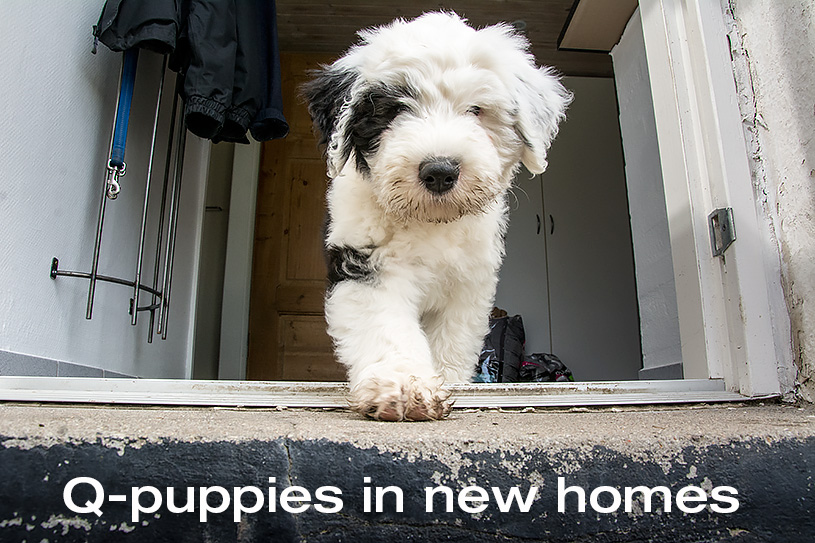 Bilbo was first to go to his new home.
Søs and Christian in Søborg already have a dog from us – Teddy from the P- litter – so Bilbo will get company
Snowy was with us. We think that the mothers better understand what happens, when they are there and see for themselves what goes on.
Back in Herringløse Diego and Nanna waited for Snowy.
The two puppies had a great weekend together and they spent lots of hours playing, running and fighting, digging wholes and exploring the garden.
One day we took them to Jorgen's job. Diego and Nanna really liked that – especially when Mia and Michael sat on the floor and played with them. Nanna paid back and gave Michael a love-bite in the nose!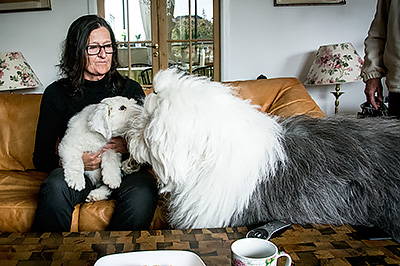 Saturday we drove to Tåsinge on Fyn, where Bodil and Einar live and Nanna should stay. Bodil and Einar have already had two dogs from us.
Mai-Britt and Martin came down from Silkeborg and drove Diego the last distance to his new home.
Alonso stayed over night with Emil and Michael in Glostrup. So we took Maise and Snowy in the car together with the puppies. .
The puppies were happy to visit Bodil and Einar – and for Maise it was a great reunion; she has spent lots of holidays here!
Paperwork was done and the last grooming-trick shown. Then we said farewell to Diego.
After lunch we kissed Nanna goodbye and headed for Herringløse. Snowy for sure knew what happened. It we could only tell not to worry, she shall soon se her kids again…!
For the puppies their first night in new homes over all went well. This said, the puppies tend to think that nights are for playing – not for sleeping!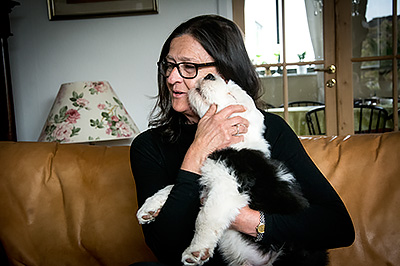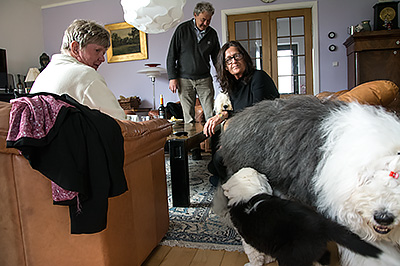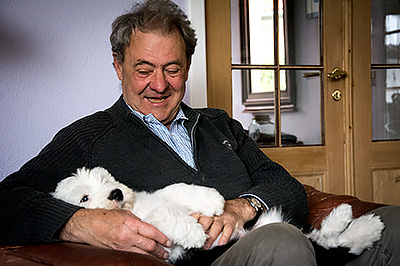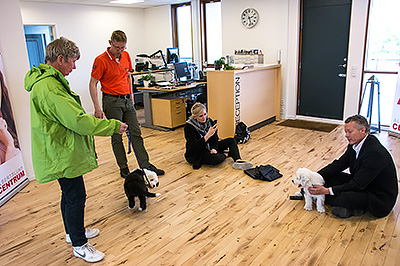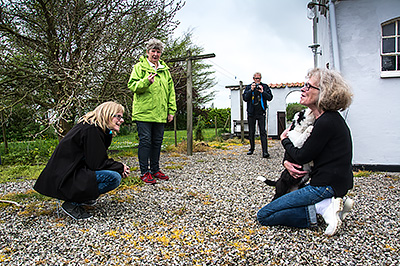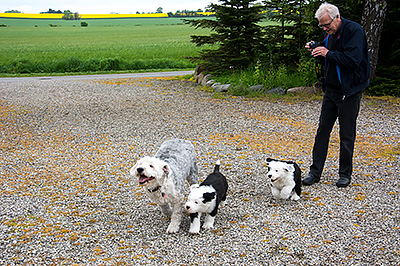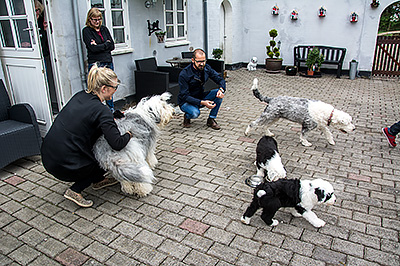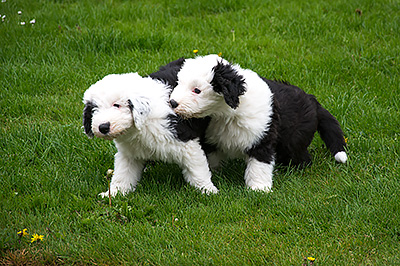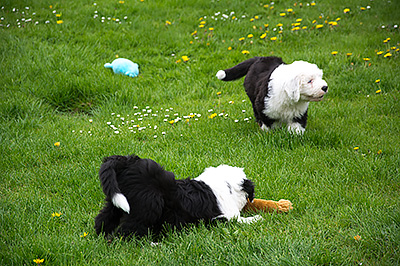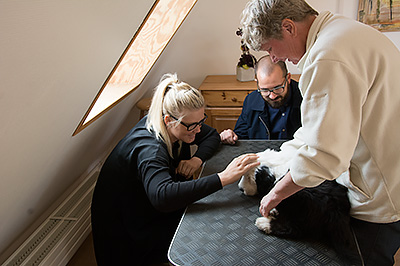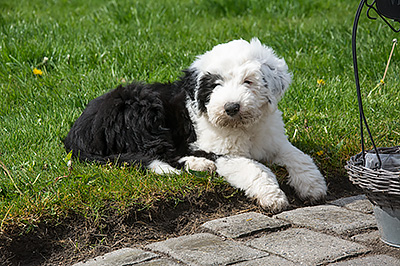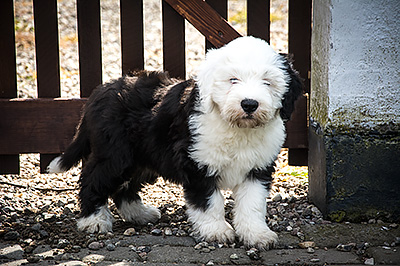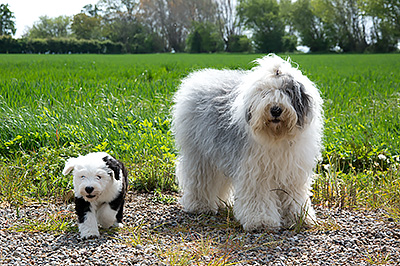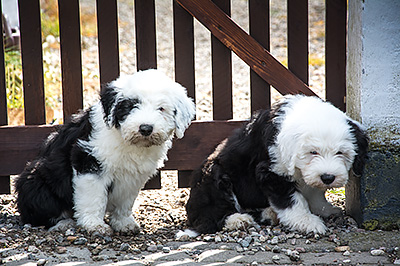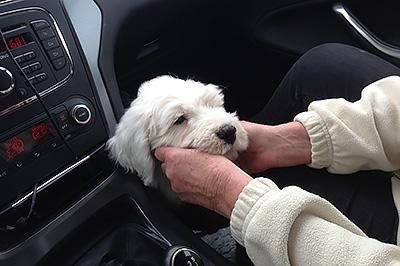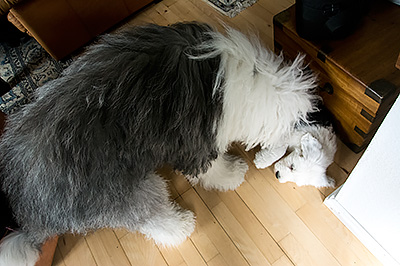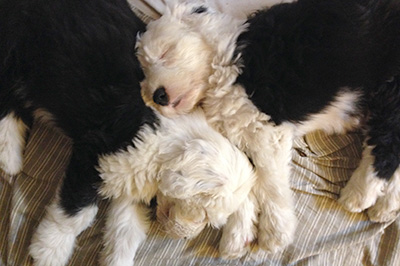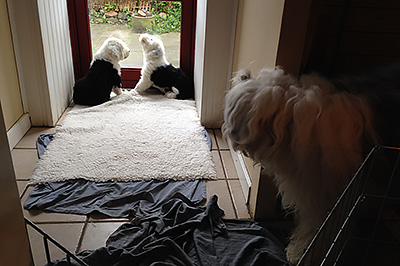 What makes you voluntarily start an eight-week-long project that demands inhumanly power, repeating concerns, and totally turns your life upside down?
We ask ourselves this question each time we say goodbye to a litter.
Many times we have said: This is the last time.
Anyway, another time comes…
Why?
This answer is straightforward: Life is being brought to this world.
The three small creatures that struggled hard to get out of their mother eight weeks ago now have grown big enough to begin their own lives.
Along the way they have given us the greatest payment you could ever wish: They have returned our love to them.
They have started to eat, have learned to walk, to see and to hear. They have become social, have played together, and have known that their mother and we are their safety net. They have become secure. They have played. They have run, explored, developed. They have become strong, curious, vise and smart.
Following that evolution is so life affirming. So each time we tell ourselves: there will be another time….
But as we walk the house and tidy up after the small pups; tear down fences, pack together toy bears, remove small used bones and clean floors after the last drop of puppy pee – well, suppose it's not strange that we are filled with emptiness and longing.
This time more than before.
We have grown older. We have gotten more sentimental.
But we also know that we have given Nanna, Diego and Bilbo to three fine families who will give them a wonderful life and who will work hard to satisfy the appetite of life from theses three small puppies.
We have passed over the baton.
Give them love and they will return in abundance.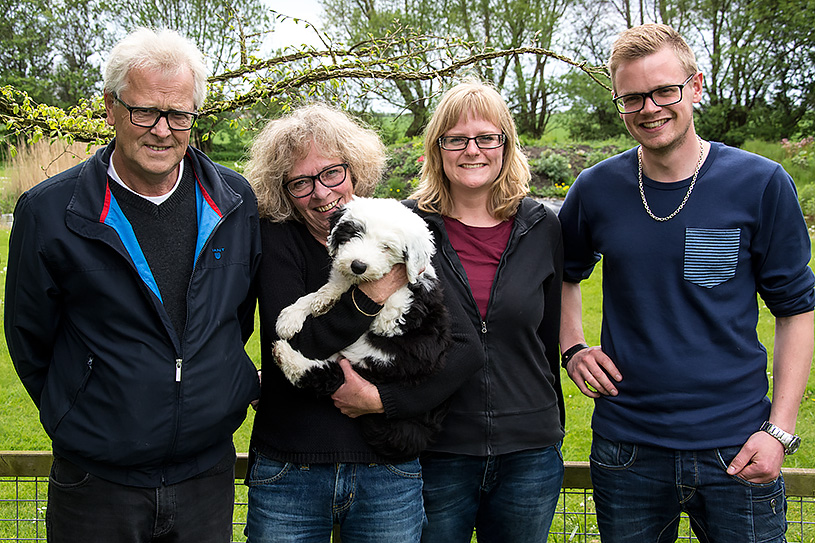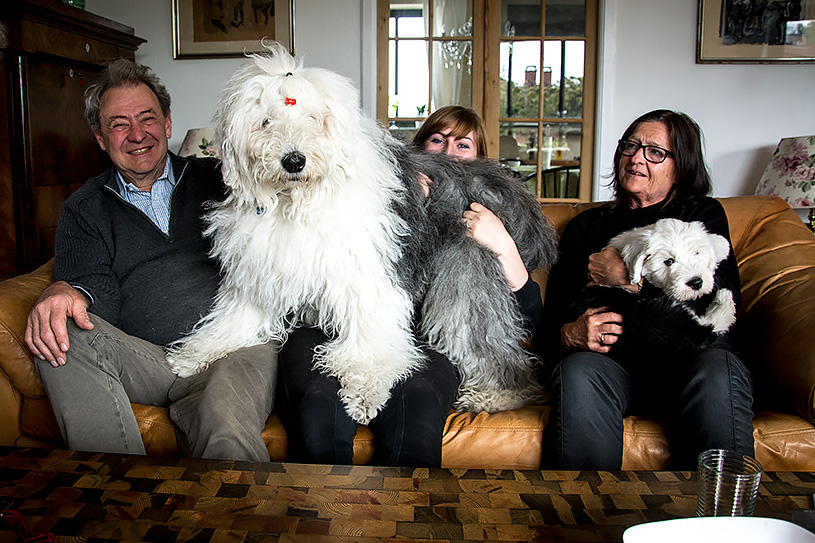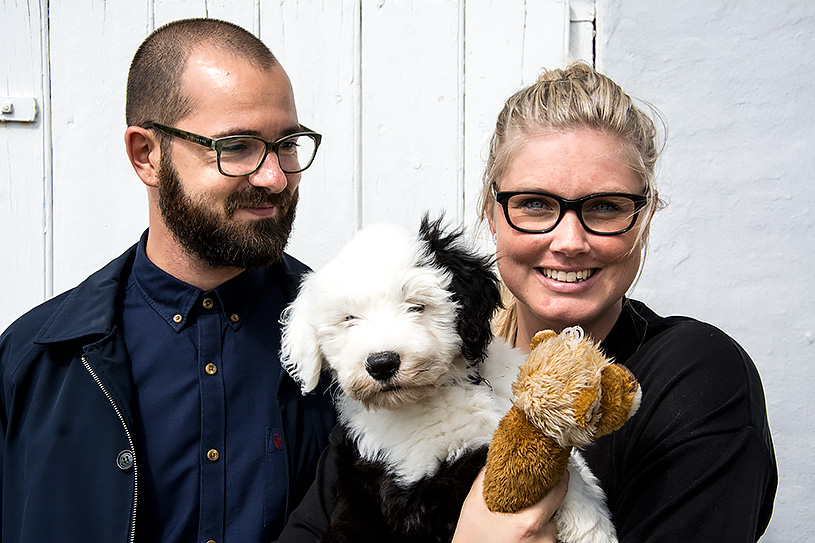 Bilbo in the car on the way to his new family.
Teddy checking out Bilbo.
Søs holding Bilbo, while Teddy takes a closer look.
Birte, Christian, Søs, Bilbo and Teddy.
Nice to sleep like this with Christian.
Diego and Nanna went to see Jorgen's job, the local paper.
Michael gets a love bite in the nose from Nanna.
Nanna and Diego stayed close together during the last week.
Christina, Ejnar and Bodil saying hello to Nanna.
Maise was happy to be back at Bodil and Ejnar's place.
Mai-Britt and Martin come to bring Diego to his new home.
We don't care...time to play!
Last time playing...see you soon.
Birte gives some grooming trick just before the departure.
Einar and Bodil with Nanna - Christina and Michael joined in to say hello to Nanna.
Christian and (behind Teddy) Nina - then Søs with Bilbo.
Martin and Mai-Britt with Diego...and his teddy bear!