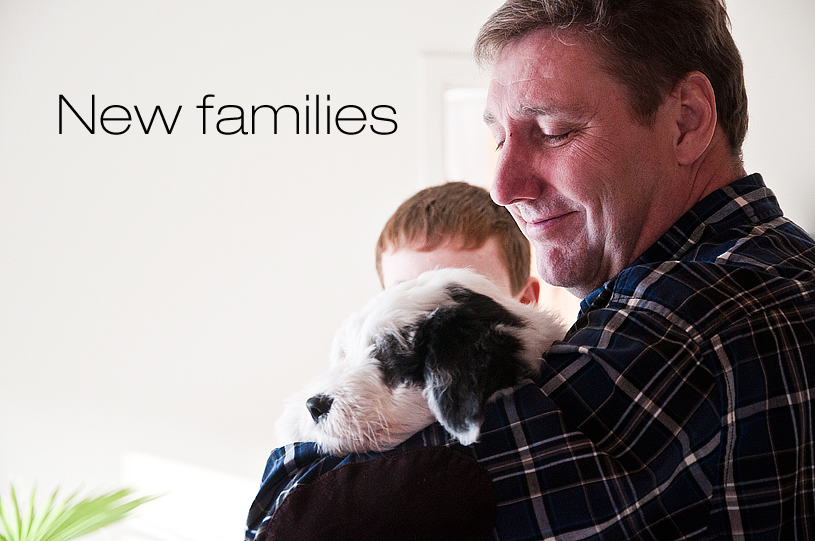 Eight weeks have passed, since Toddi gave birth to five males and two females.
For us and for Lis and Lars Bo those weeks have gone quickly. For the new families who have waited to get their puppy, we think the days have gone slowly!
Friday we drove to Sjællands Odde with Nikki. Anette and Ethan welcomed him as their new family member. In the evening Gerda and Hein came from Amsterdam. They spent the night at our place in Herringløse, before we drove to Lis and Lars Bo in the morning.
Toddi was in the garden with the puppies, when we arrived. The day before she had stopped giving milk to the pups. Apparently she had a feeling of what was going on.
Everybody said goodbye to Roover, and then Lis and we took Jake and Skipper in the car and drove to Odense, Fyn, where family Johansen lives. We agreed to make it a stop over for Katty and family who came from north Jutland.
Jake and Skipper took the long car ride perfectly. But they were pleased to get out and went crazy in the new fallen snow in the garden. They played for a long time, and we all enjoyed it. We finished the paper work and gave the two pups a hug. Then we drove home to Lars Bo who managed the house with Toddi and the three last puppies.
We drove Snowy home to our place, where she is going to live, while Teddy stayed together with sister Nuller – she should stay with her mother Toddi, Lis and Lars Bo.
Sunday it was time for the last puppy to go. Teddy should to Søs and Christian in Søborg. Teddy came with Lis and Mie. We brought Snowy to give her car-ride practice and some new experiences. Furthermore she was really pleased to see brother Teddy and Lis again. The two boys fooled around in the garden, until they ran out of power and wanted to sleep.
It is always hard to say farewell to a litter. But it gets easier, when you feel certain that the pups will go to great families who want to give them a wonderful life.
For Lis and Lars Bo the departure feels OK, because they should keep a pup from the litter. Just like we have to keep Snowy.
New chapters are to be written. Not only for us, but also for five happy families. We wish you the best of luck with your new puppies. Remember: They are special!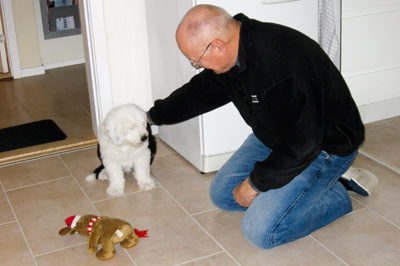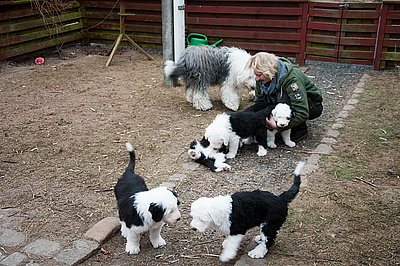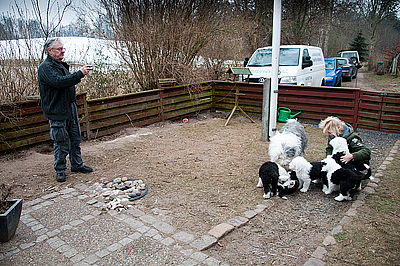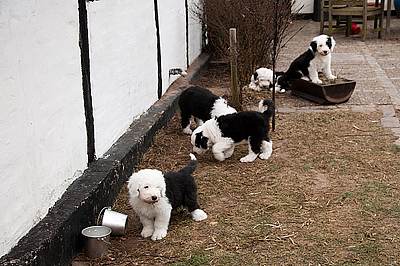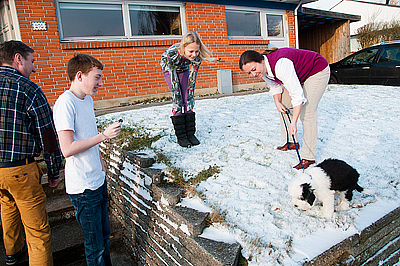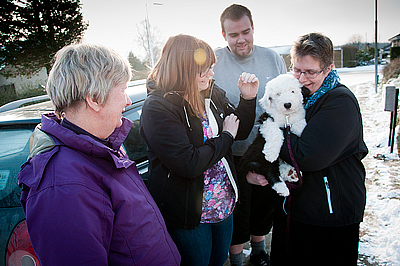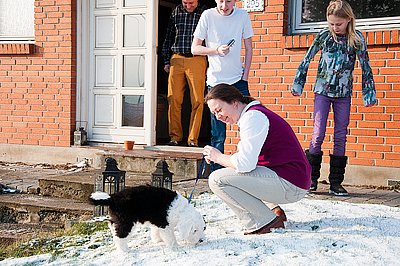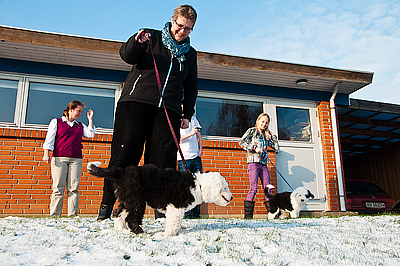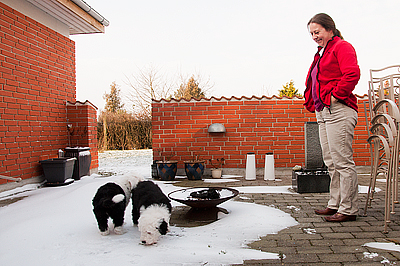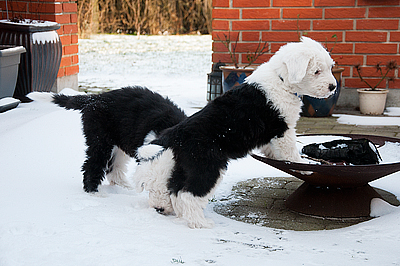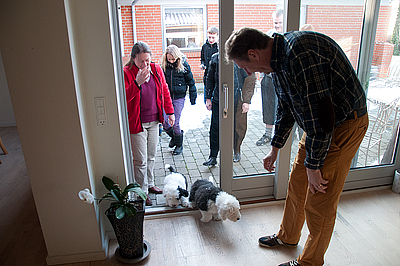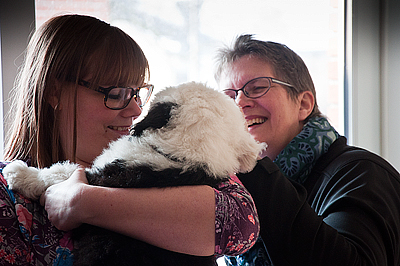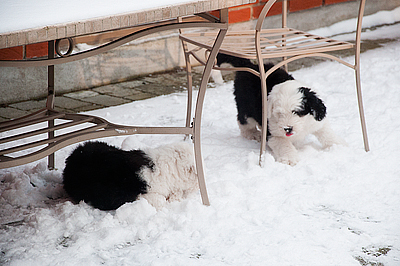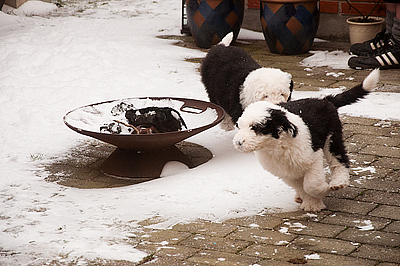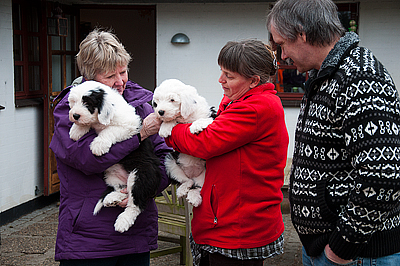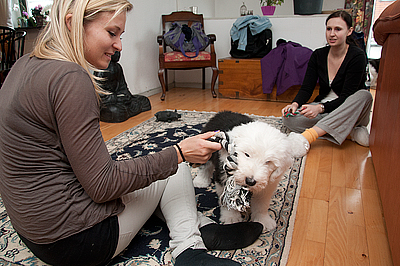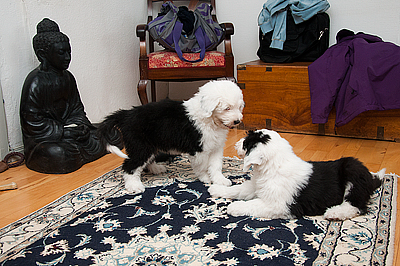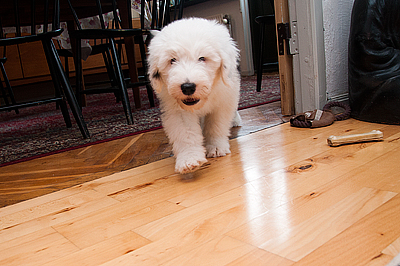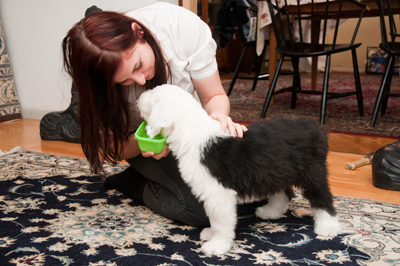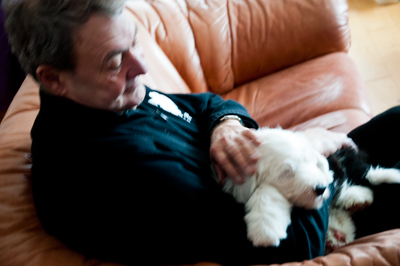 Ethan says hello to Nikki in the home on Sjællands Odde.
Saturday morning the pups were out in the garden at Lis and Lars bo.
Hein and Gerda from Amsterdam fcame to bring Roover home.
First the pups wanted contact and Toddi should check out the situation.
n Odense we delivered two puppies. This is Jake.
And here Skipper brings happiness to his new family.
First a walk in the garden after the long car ride.
Jake nosing around in his new territory.
Anne admiring the two puppies.
The new place has to be closely investigated.
Then its time for running in the snowdrifts.
Eight week old pups have ots of energy.
Humans are made for opening doors for pups!
Birte with Snowy, while Lis and Lars Bo says goodbye. Nuller with Lis.
Sunday morning Snowy and Teddy met again - in Søborg.
Teddy was met by the whole family.
Be also had to check out his new home.
A puppy might get thirsty.
Then it's time to sleep on the new human.