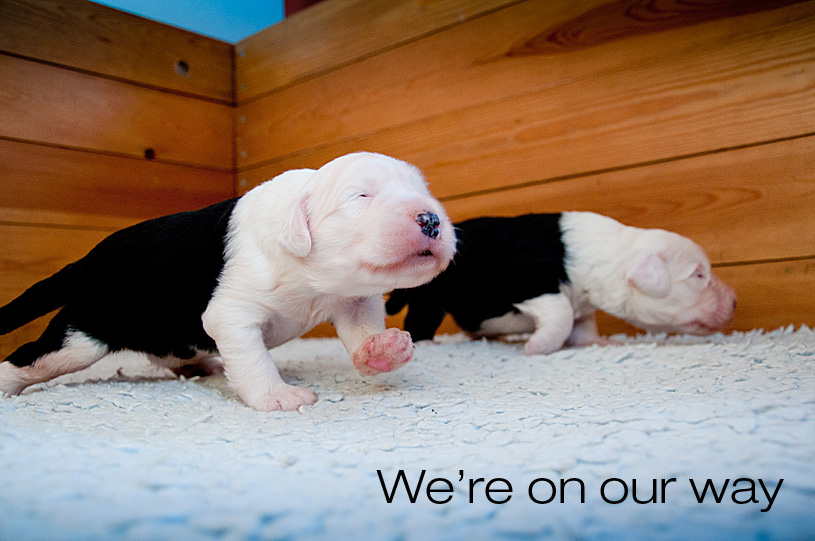 The puppies are 11 days old and have tripled their weight.
Our first-week worries have gone, and since they can neither see nor hear yet, we are in the so-called calm week. Not quite the way we see things…!
The puppy box used to be in our bedroom. We slept there on shift while the other one slept in the next room together with Misty and Alonso.
But it was too noisy during nights. The pups whined, if they had too much milk. Which made Maise worried, so she started whining! Furthermore she was snorting, because it was hot in the room. So we decided to move pups and box to the next room and recapture our bedroom.
Now, when the pups make noise, we go in there with Maise. She gives them food and we sit and wait for the meal to end; then we go back to bed.
This sure makes a much better rhythm for all.
The pups develop fast. They are learning to walk, and they have started using their smelling sense seriously. They are very much aware, when mum Maise enters the room.
Their eyes are opening slowly. Starting as small cracks.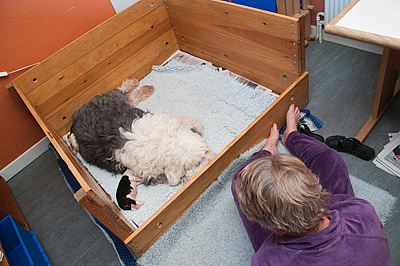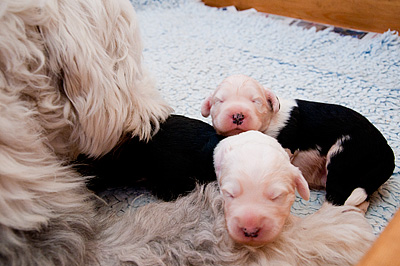 Soon they will react to light and the boys will wake up with the sun! So we are in trouble again!
We have the two of them in our hands as often as possible, and they feel very comfortable and secure.
Maise is doing great. She now comes along with Misty and Alonso on walks in the forests.
Her temperature is back to normal, and she is feeling fine with the boy's new 'cave'.
She is an experienced mother, who has had two huge litters. So she lacks a bit of action with only two boys. Solution: she carries one of the puppies' teddies into the puppy box to make some action!
Some times she likes to lay outside the puppy box and feet the small ones. So we obey and bring her the two boys, and carry them back again after the refill!
Maise has had her stings removed after the Caesarean, and everything just looks perfect.
We are talking about pedigree-names for the two boys. Soon they should be registered in the Danish Kennel Club.
We have had a couple of suggestions concerning their calling names. You shall be the first to hear them, when we finally make the decision.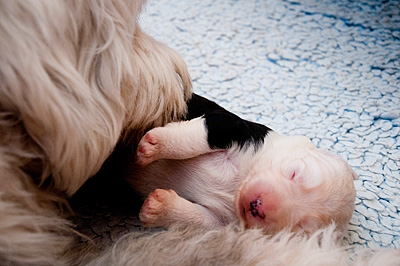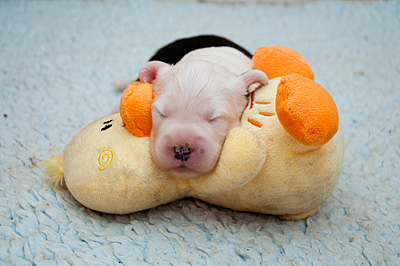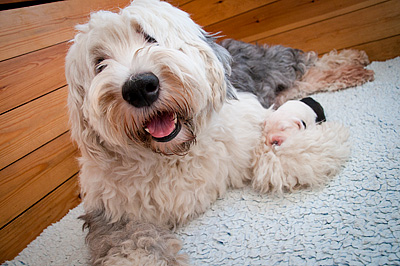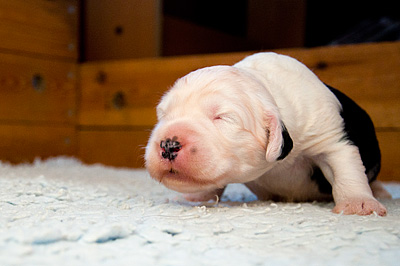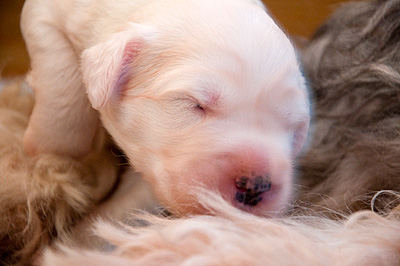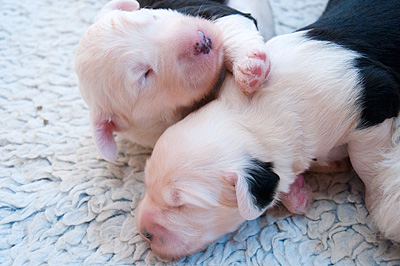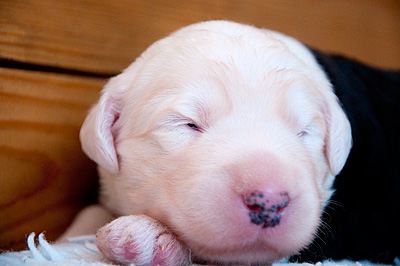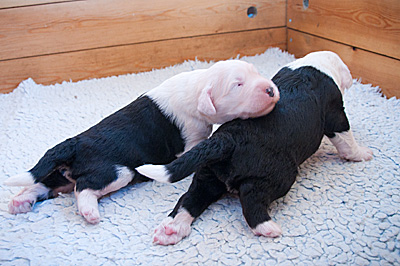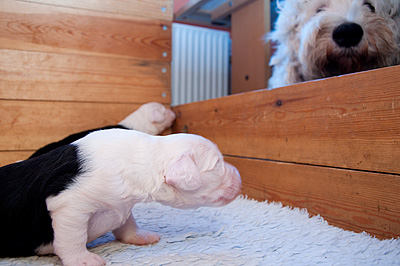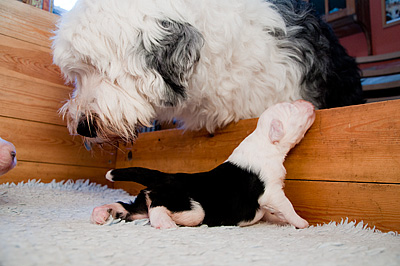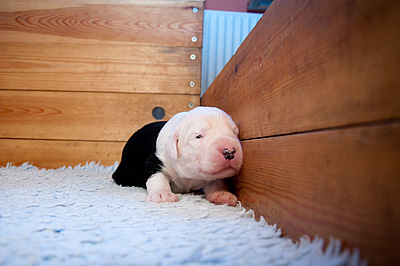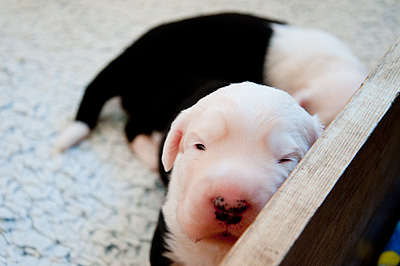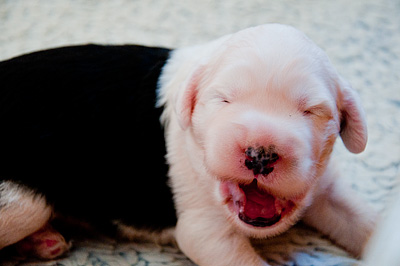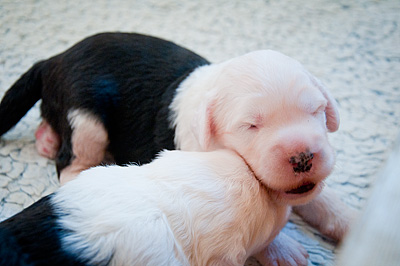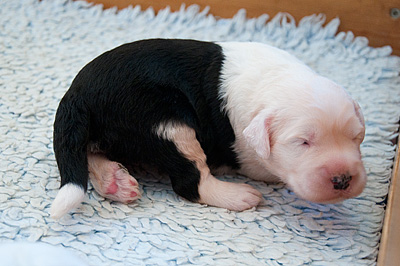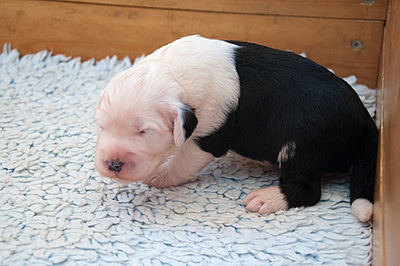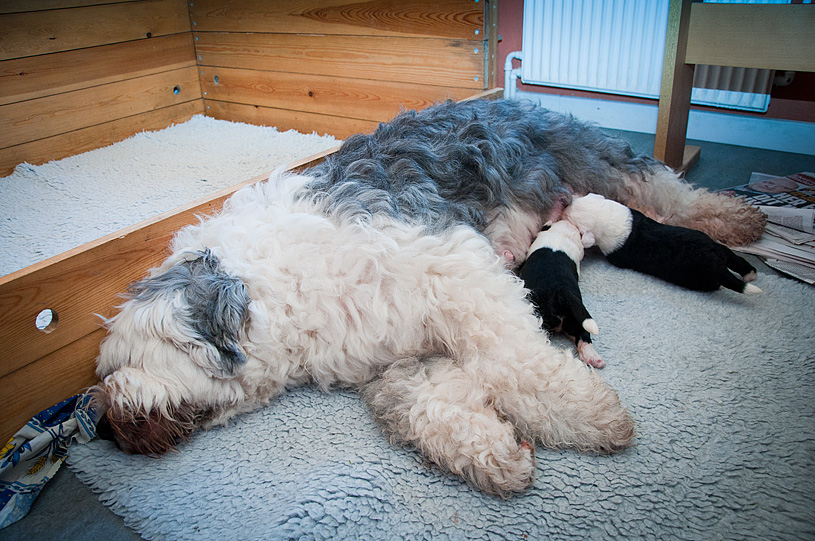 We have moved the puppy box away from our bedroom.
Maise has accepted the changes very quickly.
What else are teddies for?
Maise is doing fine. Her temperature is back to normal.
Could you be a crowd when there's only two?
The second born boy. Eyes are small cracks.
It's hard to walk with little brother on the back!
Maise checking out the situation.
The boys can smell, when mum is entering the room.
9th of August: Eyes are opening.
There's plenty of sound in a small pup!
They are beginning to discover eachother.
Maise likes to feed the puppies outside the box. There's more space for her.