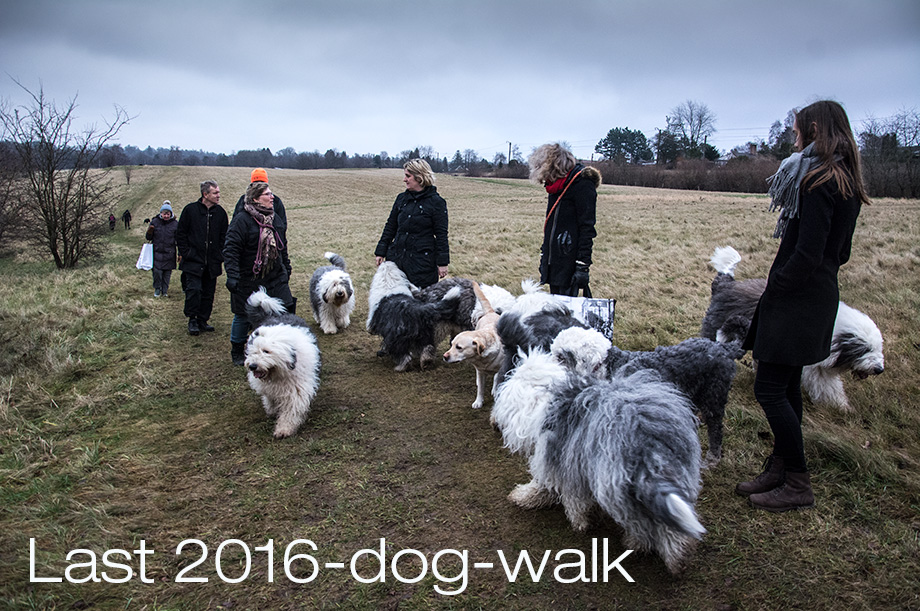 On the last day of the year we went for a walk with nice friends and family. It has become a stable tradition that everybody looks forward to. Especially the dogs, who love to get together in their very huge pack.
This year's walk took place in the fields of the closed golf-park in Værløse.
Bodil and Einar and Nanna from Tåsinge stayed with us during New Year. We drove together with them and our dogs Maise, Alonso, Snowy and Tiffany to Værløse to meet the rest.
Lone and Per came with Simba. Susanne and Arne, Sofie and Uffe came with Luffe, Alma and Smilla (she was newly cut and looked great!). Lene, Kim and Emil came with the two lab's Muddhi and Toffee.
Speaking in miles this years' walk was short. But the dogs fooled a lot around, played and found great smells. So they were very tired and prepared to face New Year's evening.
In the pavilion on the area we enjoyed champagne, coffee and home baked cookery – and wished us all a happy new year.
Lone spread lots of goodies for the dogs to fin. So every one had a great afternoon.
Happy New Year to you all!