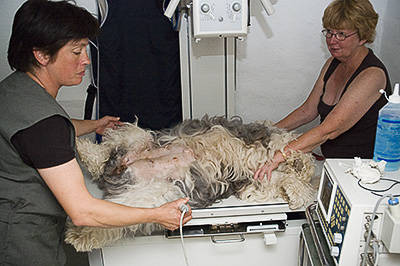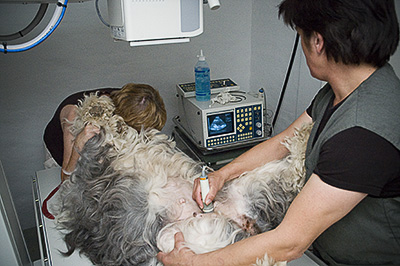 Misty is expecting puppies. Happily.
But unfortunately the litter is going to be small - 2-3 pups.
At least that's what the scanning at vet Helle Christophersen showed us Wednesday afternoon 8th of August.
So we are going to disappoint many nice families, who are waiting to get a puppy from us.
Hopefully we are also going to make some people happy, since they have waited for a long time to get a Blue Berry puppy. But let's see. All we can do is wait and hope for the best. Misty was mated with Dortemarie's and Torben's dog Tino (Sound Solution Ground Control). This is going to be his first litter, and Misty's third. See their pedigrees.
We have plans to mate Misty's 2 1/2year old daughter, Maise, at spring.
Vet Helle Christophersen has scanned Misty twice on the resent litters. She is left and Birte right holdning Misty laying on her back.