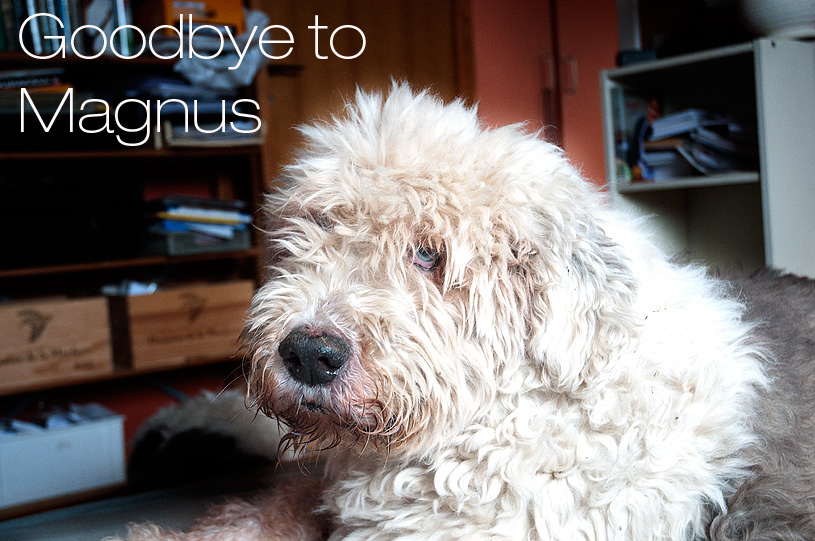 12 years and eight months. So it came to an end.
The muscles were weak and it was difficult to stand steady on the ground. The appetite was sinking during the last weekend, and even though Magnus ate his last roll of goats cheese on Sunday, we had no doubt: It was time to take the damned hard decision. To say goodbye to Magnus.
Monday we took him to our car and drove to vet Helle Christophersen. She had promised us, that we shouldn't try to get Magnus in to the clinic. She came out to the car, where he was resting on his beloved place. Here we said goodbye, and Magnus had peace.
Magnus has had a wonderful dogs life and given us many great experiences, since we picked him up as a little puppy at Jean and Rinus from Kennel Wobbling Sound in Holland. He was Jørgen's 40 years birthday present from Birte.
We still remember the many tours to France every summer, where Magnus was obvious to join us, not least because of his love for goats cheese! The last couple of years at home we have bought some cheese to him, and he really enjoyed it to the last roll the other day.
Throughout the years Magnus has been a handsome and lovable dog, which knew his own worth.
He was loved and respected by our entire pack of old english, and they accepted him as the leader to the very last minute.
Magnus was father to three litters. Our G- and- J-litter and a litter on Kennel Fluffy.
We still have his first daughter from the G-litter, Moonie.

Read more about Magnus

10 years of age
11 years of age

12 years of age
The last photo of Magnus. He had two beautiful eyes which drove peoples attention where ever he went.