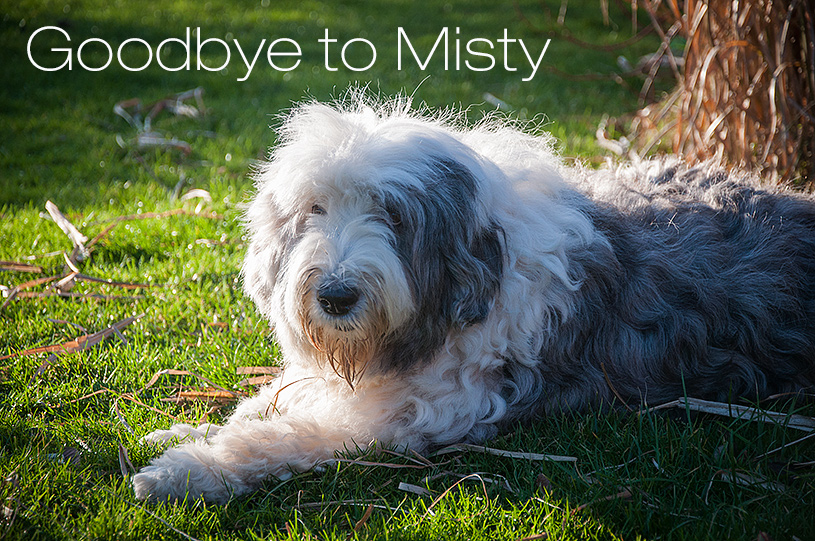 We don't have Misty anymore.
Sometimes life hits you hard and merciless.
For nearly 12 years Misty has given us lots of joy, many great puppies and grandpuppies.
But Thursday it all came to an end.
Misty was marked by her age and her legs couldn't carry her much longer. The other day we took Misty and her two kids Maise and Alonso and grandchild Snowy on some wonderful trips in the woods and along the sea. After that it was as if her body said: That was great, but now there's no more power.
During the last two days she had difficulties getting up, and she lost her appetite. Signs saying something were really wrong.
We drove her to Herringløse Vet Clinic, where vet Lotte Kofod told us that Misty had high fever, really bad circulation and a huge bulge in the stomach. There were two alternatives: Removal to a vet hospital or saying farewell.
We chose to put her to sleep.
This was very painful, especially to Birte who was in USA when al this happened. It was unbearable not being able to say farewell to the very puppy she herself brought home from Sue and Ray in England nearly 12 years ago.
But we have an agreement that our dogs should never suffer. So we made the decision.
Misty had a great life. She was the little, charming, always reasonable puppy who grew up to be a fantastic mother for her many puppies and a beloved grandmother for her many grandchildren.
Everybody loved Misty the granny. And everybody will miss her now.



See pictures of Misty when she was 10 years and when she was 11 years.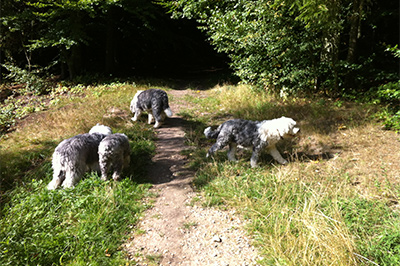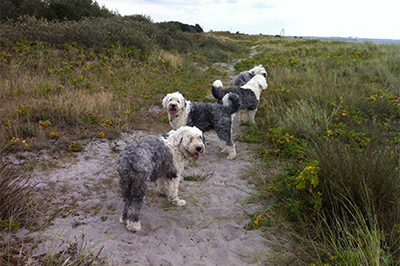 Misty with the back up, nosing in the woods. She joined us in a wonderful trip in the forest three days ago.
Misty in front. She is together with her kids Maise and Alonso, and grand-puppy Snowy on Hundige Beach. Two days ago.