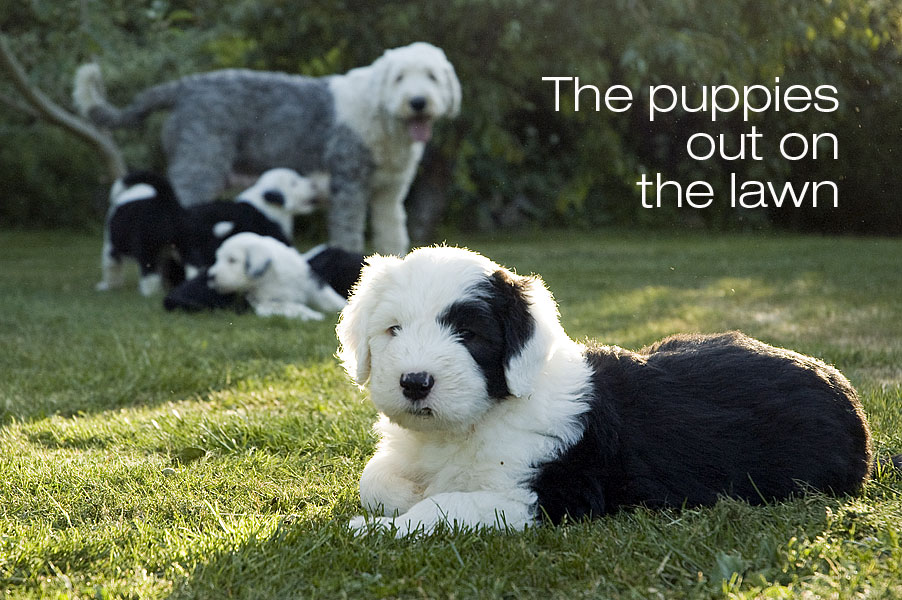 The last three days the puppies were out in the garden several times each day. Not only in the yard, but way out. Where there is grass to walk on. But yet funnier: Where there are bushes in which they can go exploring, plants they can test-eat and lots of space to run fast in.

In the beginning they were careful. They stayed close to mother Maise who was also a bit anxious about having them all out there spread for the wind.
But soon the pups got familiar with the garden and the huge amount of space.

Maise also liked the thing, and came to the conclusion: When they can run out here, they are old enough to learn running fast and play. So she took an old plastic flowerpot in her mouth and ran around. The pups didn't get the point, so she let it be.
This gives them exercise and more appetite. So we have raised the amount of food to them. We have also stopped soaking the dry food in water for hours. Only 10 minutes in boiled water, and food is ready. They have got teeth (indeed, they bite!) so it's about time to learn to use them.

Alonso is also in the garden. But Maise is guarding him closely. He is still a big puppy and thinks that the small ones are his friends to run around and have a good time with. He steals one of their teddy bears, runs around and wants them to catch him.'
Seems needless to say: They don't get the point yet. But they surely will in not so many days.