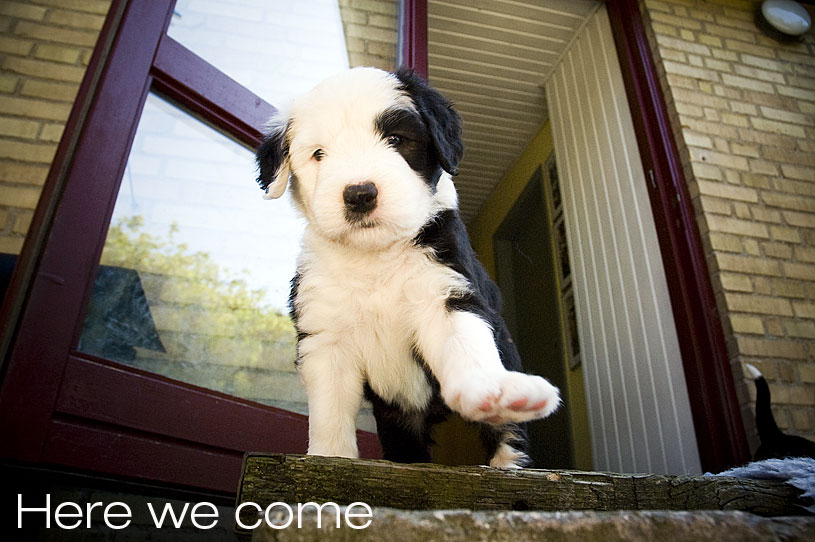 Five days ago the puppies were only in their own room, and did well. So they were let out into the kitchen, and this is where they have been most of the time.

June has only just begun, but the weather is summer-warm. The pups did not fit well in their room. It was too warm, so we decided to let them sleep in the kitchen. We placed many soft blankets on the floor, but where did they sleep? On the cool floor with no blankets on!

Since weather has been superb, we opened the door to the enclosed yard outside the kitchen. Suddenly the litter discovered a world much bigger than they'd expect. Some were careful, some braver. We placed an old pallet just outside the door and placed a blanket on it. They like to lie here and play or bite each other in the ear.

When there is no more sun in the yard and it gets cooler, Maise takes all of the litter for a walk in the yard. She even feeds them in the open- standing (other wise there is no space for them).

Afterwards she lies down and has a great time with each of them. She stirs them up to play and the brightest of them take up the challenge.
Maise still has lots of milk, but we supply with soaked dry-food and milk, like we have done some time now.

Not so many puppy-buyers came to see us last weekend, but the next weekend more have come to visit their puppy. We look forward to that.