Both a match against Sweden and an international dog-show took place on the same weekend the last og september.

On saturday the match in odedience against Sweden. We did not participate, but Sessa and Dusty did.
The swedes won the match, but we thought the danish OES' did a good job in the odedience-ring.
Dusty did actually very well. Again he gained 86 points - which is the same brillant result as he did on a match in the danish kennel club not so long ago.

We took the trip to Helsingor, where the match took place - just to say hello. But also because we planned to go for a walk in the forrest nearby - a forrest where the dogs are alloud to run free.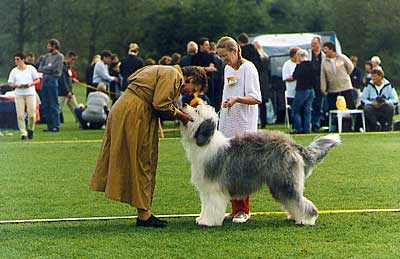 We hoped to find some mushrooms - but were not in luck. Instead we had a perfect time in the forrest together with Magnus, Meggie, nanna and Moonie. The sun was shining, at the dogs felt for a swim in the sea. We stayed on the beach!
Sunday there was a kennel club show in Brondby close to Copenhagen. Dusty and Moonie entered, but they were absolutely not in luck.

Moonies bite is not perfect - and we actually know that. But we think she has got such a nice type, so we decided to enter her anyway. She didn't do well, but the result was OK for us to use her in breed. We shall see for that.
Dusty is only one year old and mesures 70 cm. He needs one more year to gain muscles, body and coat.
But judge, Charlotte Høier from Denmark, loved his temperament. So some good things were said about him!
It shall take some time before we enter the two dogs for other shows.
But fortunately there is other things in life for dogs than showing.