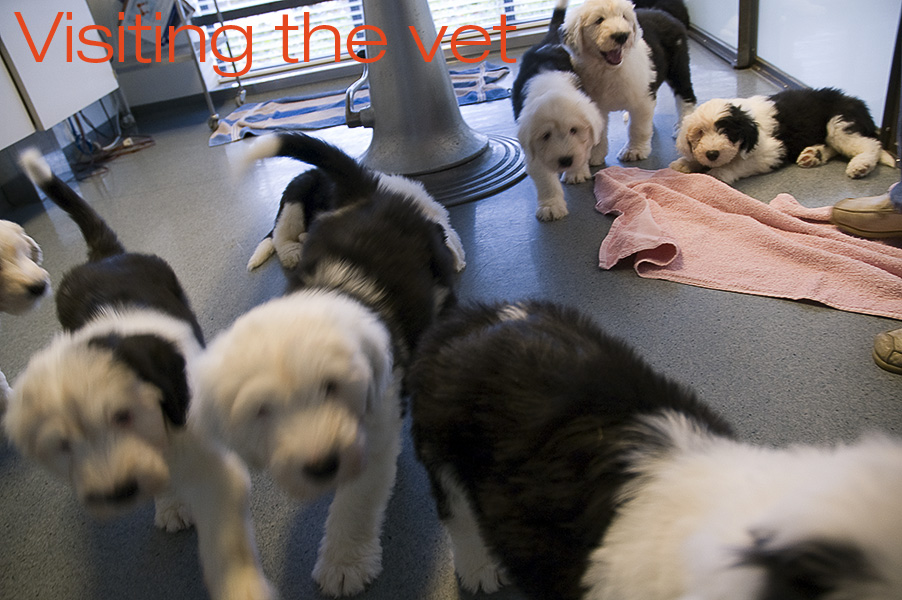 Wednesday started as a not-nice-day for us. The eyetest is something we always fear. If the vet finds an eye-disease, unfortunately there's only one way to go.
But Wednesday became a wonderful day for us! Every puppy had fine eyes and there were no remarks.
For the first time we had the whole litter driving in the back of our car. We went to Karlslunde veterinary clinique, where Mogens Aalund did the eyetests and the helth-excamination on every puppy.
The nine small OES's were greeted with hilarity. We took them to a room in the clinique, and they quickly laid down and relaxed, while waiting for their turn to be checked.
The eyes were fine and so was their common health-condition.
Back home again, the many new impression had made them all fall to sleep onn the kitchen-floor. But first Misty gave them a welcome-drink, we gave them food, and Maise took care of the fondling and coddeling.