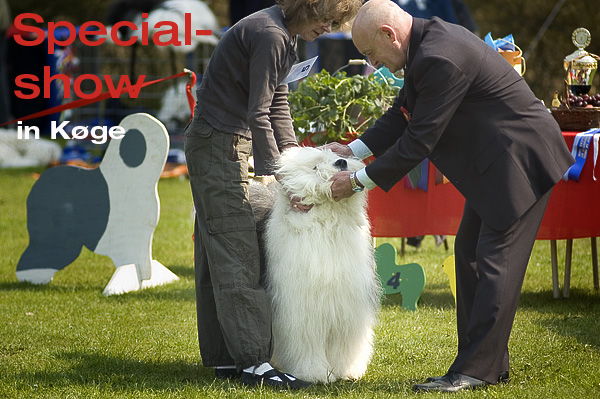 Sunday the 7th of May The Danish OES-club had the Special Show in Køge south of Copenhagen.
As always it was in bright sunshine.
The Special Show is a yearly show held in the eats and the west of Denmark by turns. To judge the show a specialist of the breed is invited. This year Mr. Barrie Croft agreed to come, and he gave both showers and the public a super experience.
Barrie Croft is highly regarded among OES people.
He is an english breeder, and on shows he handles his dogs close to perfection.
He has a huge knowledge about the history of the OES-breed and has judged old english sheepdogs in many, many countries. Including the famous Crufts in England 1999, where Birte had the oportunity to be there.
On our Special Show 22 dogs entered. They all got value for their money; long, comphrensive critics as well as spoken explanations and good advices.
On the club-hompage www.oesidk.dk you can read the show-results.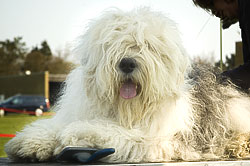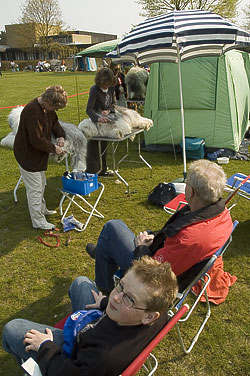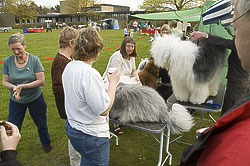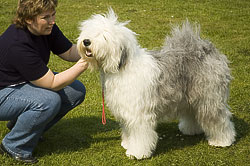 We just feel like telling that both Lunte (J-litter) and Maise (K-litter) did very well.
They both got 1. price with CK - whichs means thats Barrie Croft found them capable to become champions.
Showtime is always funtime for dogs and people.
It was wonderfull that Lis, Herdis and Lene came to Køge and assisted around the groomingtable.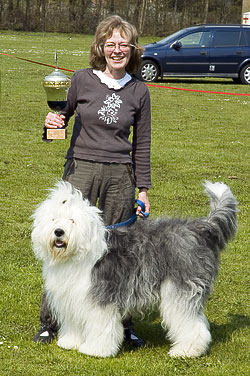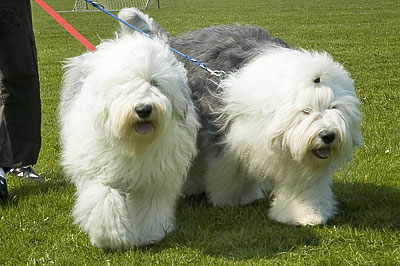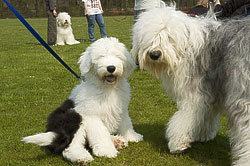 Lunte before the grooming started.
Lunte in the ring, handled by Bodil.
Maise did so well, that she should also enter the huge bitch-class. She is no. 4 from left.
Bodil and Lunte in the ring. Showing is not easy, but practise makes perfect. Lunte got the trophy for best youth-male. Congratulations Bodil and Lunte!
Maise and Lunte - two nice pupies after our Misty.
Maise enjoyed beeing away on her own saying hello to alle the dogs. This is Tove's wonderfull babypuppy.