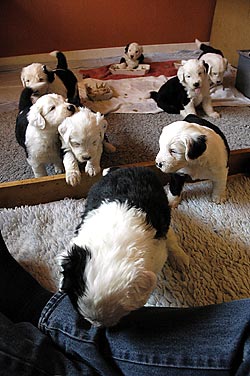 Yeah, yeah, we know it's been a while since last update! So people start calling us asking what's going on!
Sorry! But we're still here. All nine puppies are doing well.
Since last time, they have started walking more steady on their feet, they have grown bigger, heavier, and cheekier. Dominans has appeared within all of them, and it sounds formidable, when they go for 'friendly' fights in the whelping-room.
Teeth also are on their way. The puppies use them to bite eachother and shake some of the toy they have in their room.