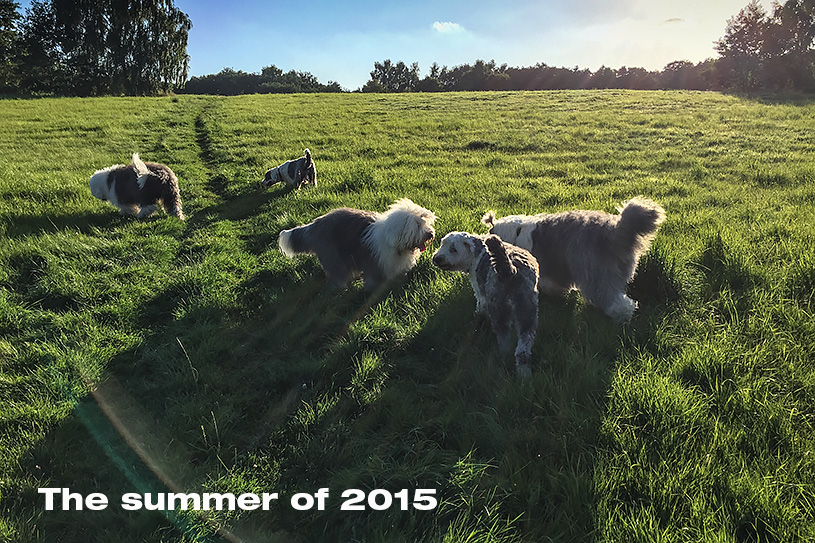 It's been quite a while since the last update.
We have uploaded on our Blue Berry Facebook-site the last couple of months. But here is a summary on what we did this summer.

In the middle of June Herdis and Birte went to England for a 5-days trip. We walk along the canals to the Camden Market. We were very impressed of The Stable, where small shops were arranged in an old horse stable with many statues of horses.

We walked along the Thames to the huge Borough food market and the Southwark Cathedral with the excavations from the Middle Ages and earlier. We saw a statue from Roman Time of a dog looking devoted upon his master (picture to the right).

We also visited the English kennel club and were presented to their gallery with many great paintings – among them was a huge picture of the OES CH. Fairweather.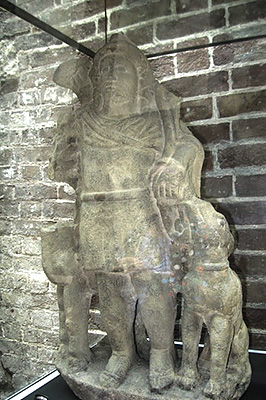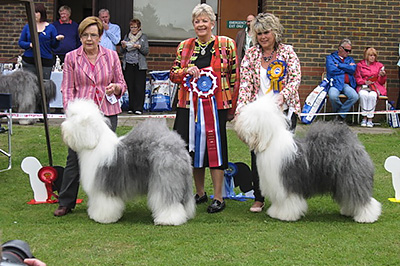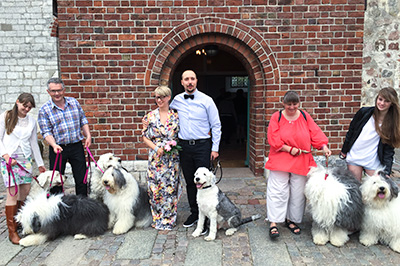 While in London Jørgen took care of our dogs and he managed to participate with all four dogs at Mette and Peter's wedding in front of the church together with Lis and her dogs.
Sunday we went by train to Wolmer Green north of London. The Greater London OES Club had his special show here. Judge was Diane Anderson, and she choosed the lovely bitch of Jenny Joice – CH Brinkley Emma Rose of Raynham as best in show and her farther CH Blueshire's I Am Canadian with Brinkley as best in opposite sex. (Photo upper left)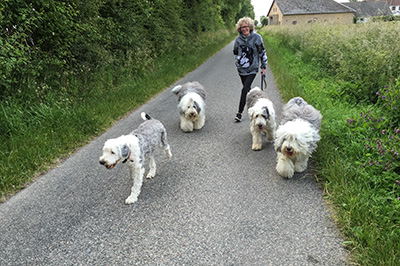 Two weekends in a row we visited Bodil and Einar on Tåsinge. First we went to the Svendborg Food Fair and second we went to a rock concert with Danish Kim Larsen. Our dogs love to go there. They meet Nanna, go to the beach for a swim and play in the garden.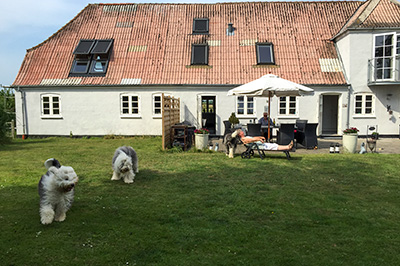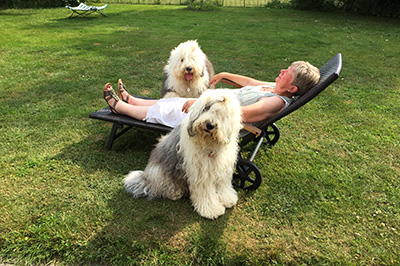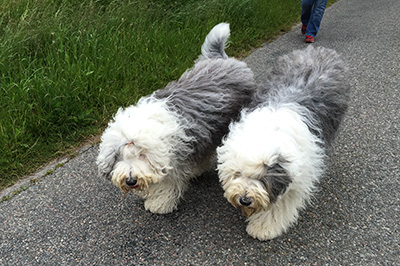 One of the fine summer night we went to the woods together with Lone, Per and Simba from our N-litter.. We arranged dinner in the open, while the dogs had a good time looking in the grass for goodies we have spread all over.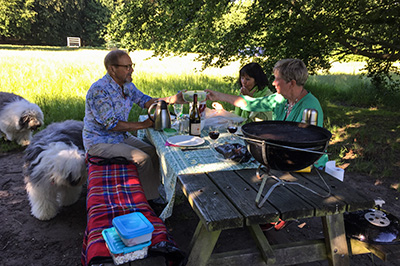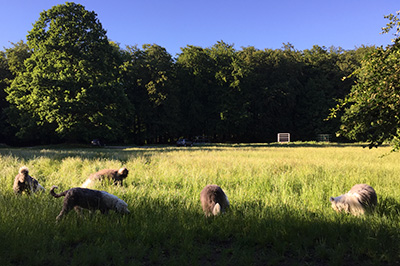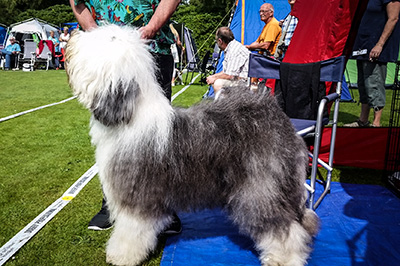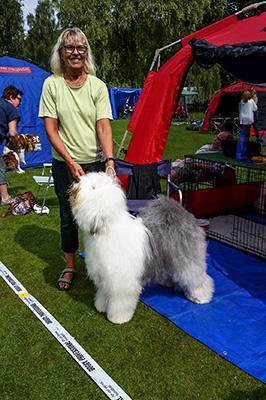 Tiffany has been with Herdis for show in Sweden several times. The last time she got her first certificate. On the same show Rosita (after our Neo) was Best Of Breed.
Tiffany is developing great and we are proud of her.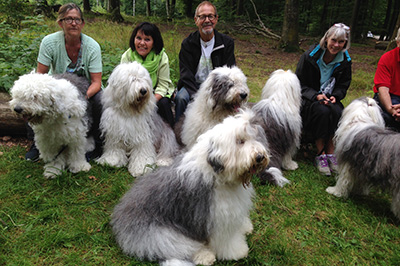 Snowy and Birte joined the Danish OES club arrangement in the woods together with 17 other Old English'. Søs and Christian with Teddy (Snowy's brother) and Bilbo (Snowy's son) were there. So was Lone and Per with Simba and Gyrithe with Mulle from our M-litter. It was a fine afternoon with a speech, sparkle wine, treasure hunt and goodies for the dogs.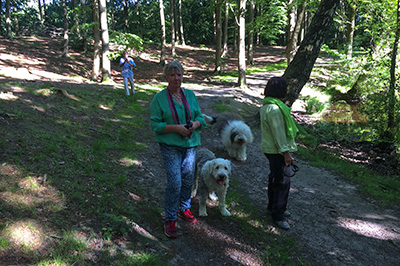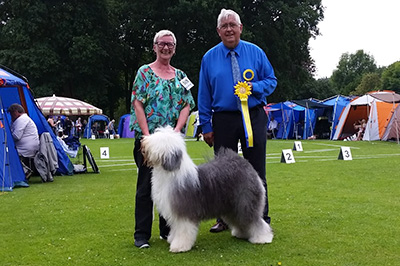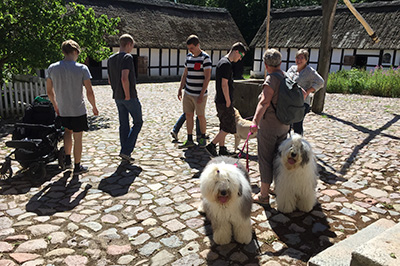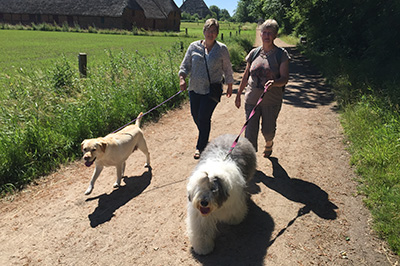 One summer day we took Tiffany and Snowy to the open-air museum with Birte's family. The dogs joined us all day long and we finished with lunch in the open.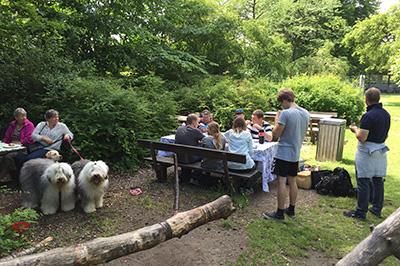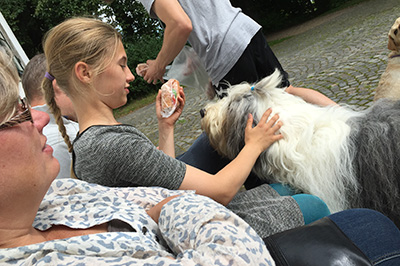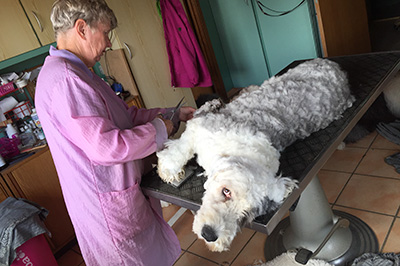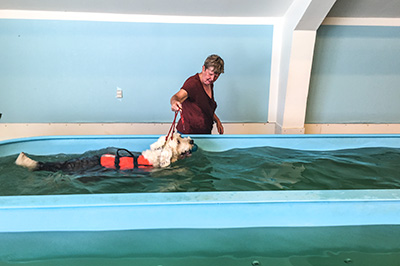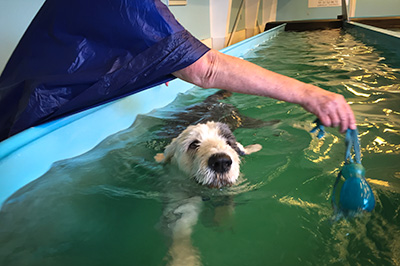 Alonso has had a summer cut and is so happy about it.
It also makes sense when we take him to dog swimming. He is faster in the water.
Two times a week we take him and Tiffany to dog swim in Taastrup. Both of them love it and it strengthens their muscles.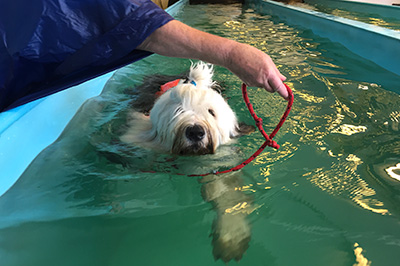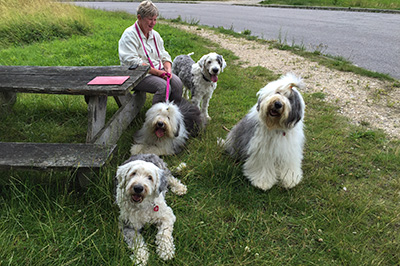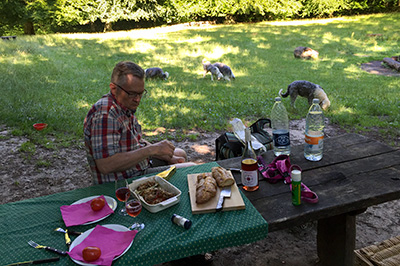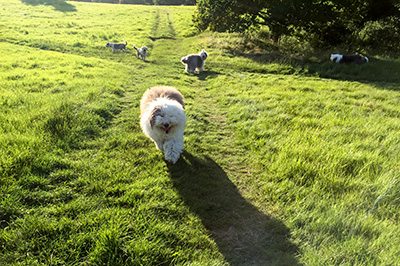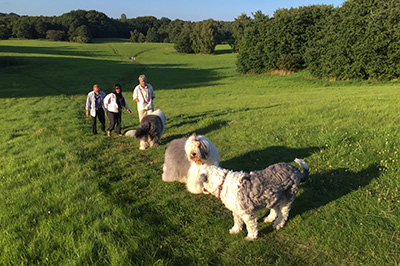 Finally a couple of pictures taken on the old golf yard in Værløse with Lone, Per and Simba - and an evening walk in the woods with dinner and dogs searching for goodies in the gras.
Tiffany and Nanna playing in the garden of Bodil and Einar.
Nanna in front and behind Birte it's Tiffany.
Daughter and mother....Nanna and Snowy. Like two drops of water!