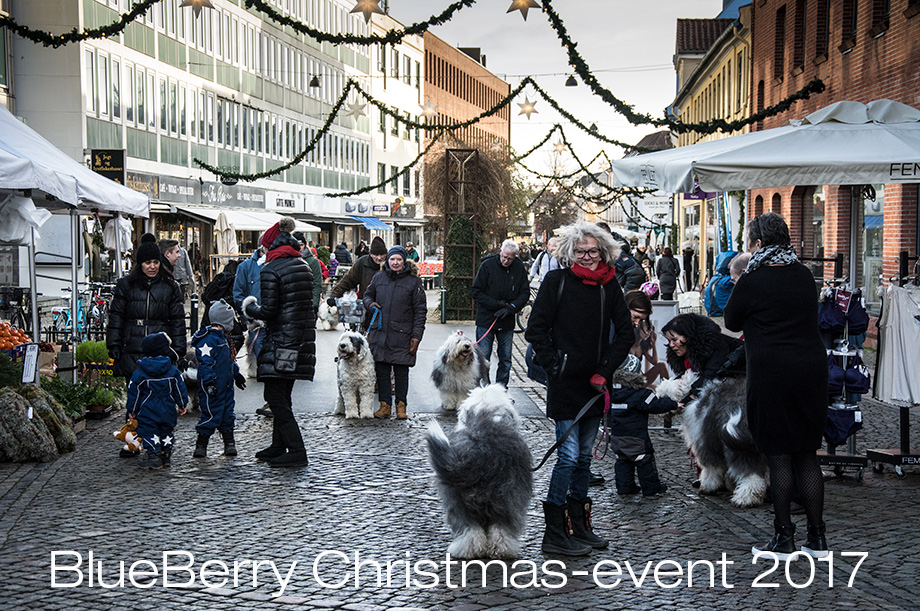 As we have done for years, Saturday we had invited puppy-buyers and dog-lovers for a trip through Roskilde's Christmas-decorated pedestrian street and afterwards home to us in Herringløse for a common Christmas lunch with packing game.
We met at Hestetorvet - 9 OESer and their families. In a loose group we went down to Stændertorvet. It took quite some time since we met a lot of nice people who wanted to say hello to our dogs and hear something about the breed.
At Stændertorvet there were great Christmas stalls and lots of people. The Roskilde garden played and we enjoyed a glass of gløgg before the trip went back to the cars.
At home with us in Herringløse, each family brought a dish to the table, which we two-legged enjoyed while the dogs played in the house and in the garden until they got tired and lay down to sleep.
The day ended with package game. There were really many imaginative packages - and there were a lots of goodies for the dogs.
This day has become a tradition that we hope to maintain for many years to come. For us as breeders, it is great to meet "our" puppies and see how well they are enjoying their families.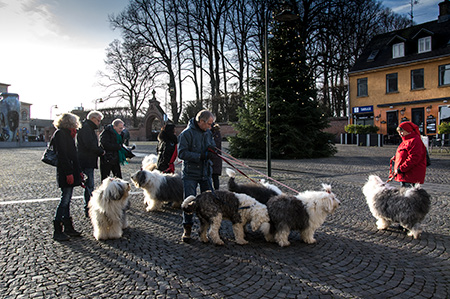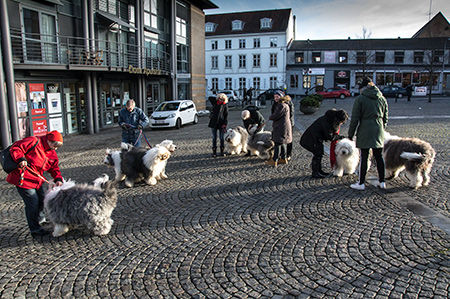 We met on the old Horse Square - Hestetorvet.
Most of us are here - the dogs are ready to go!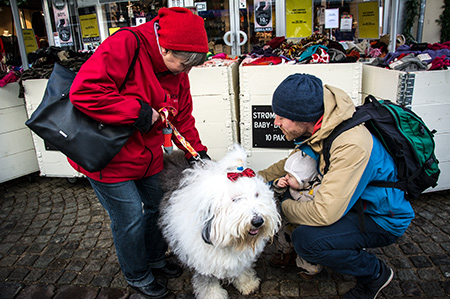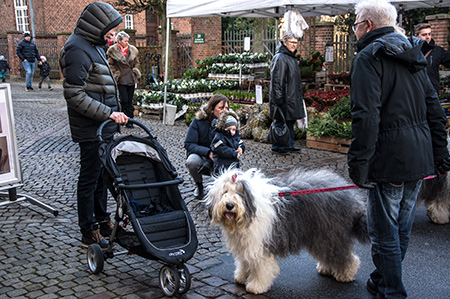 Of we go - but first it's time for a child and father to meet Nuller and Lis.
Einar with our Snowy. Many came to meet them, talk and caress.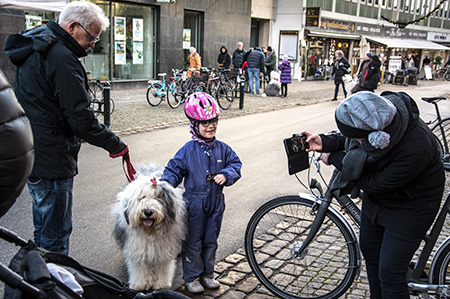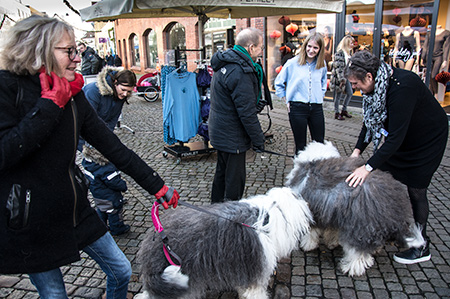 A girl wanted to have her photo taken together with Snowy!
Bodil with Nanna and Per with Simba. People came out from the stores to talk!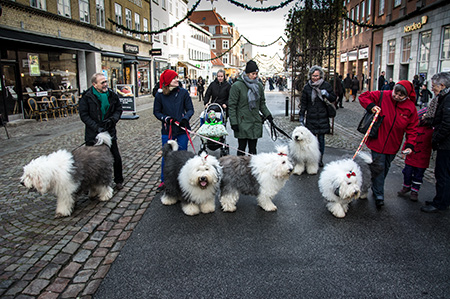 Simba, Tiffany, Nuller, Ziva and Toddi.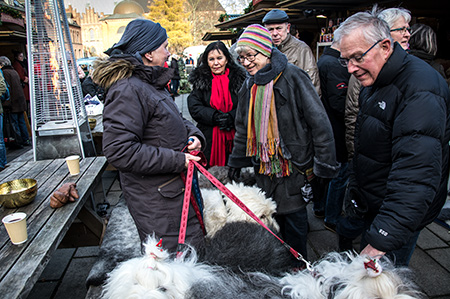 At the Stændertorvet we enjoyed a glass of gløgg - and Birte met and old friend.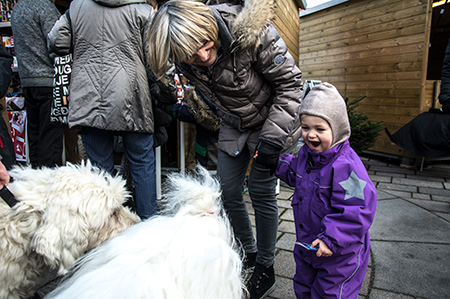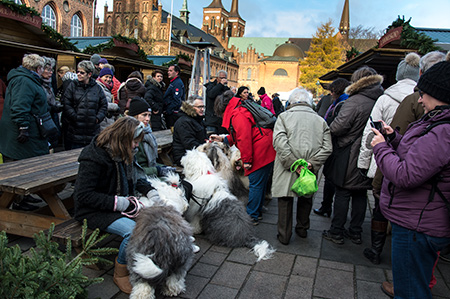 Not much room for nine dogs and the Christmas crowd.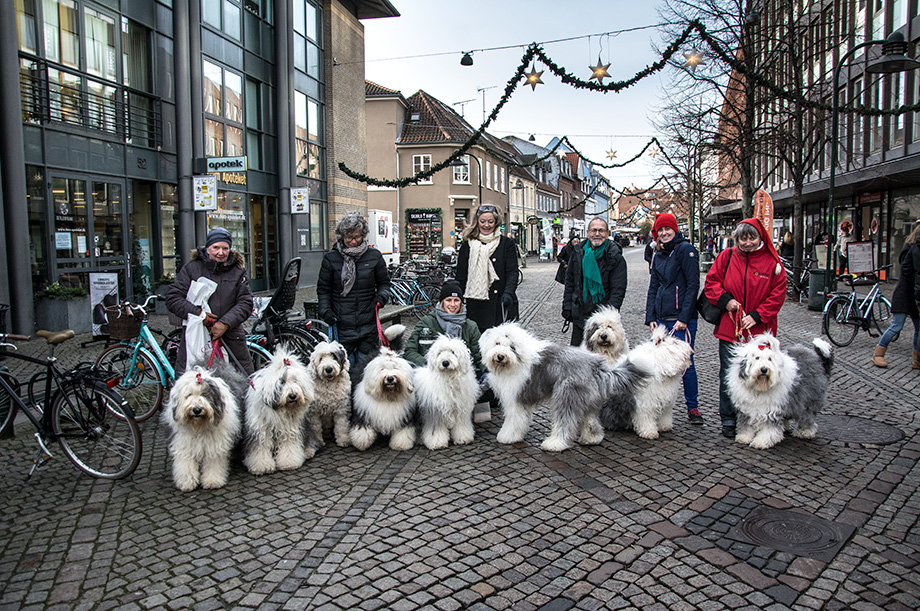 Snowy, Nanna, Alonso, Tiffany, Ziva, Zizou, Simba, Toddi and Nuller.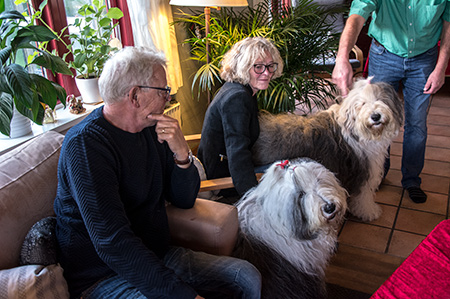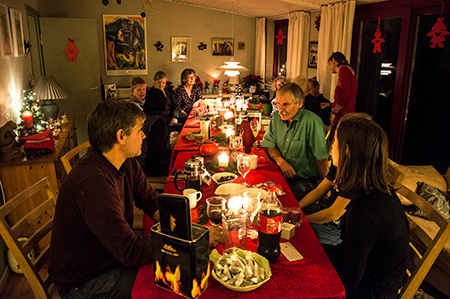 Nanna and her mother Snowy together with Bodil and Einar at our place. After the walk in Roskilde we went home to us, had lunch and played a package game. Arne with Sofie and Uffe joined us. Unfortunately Susaanne was ill and had to stay home. We look forward to see you alle - and hopefully many more next year!