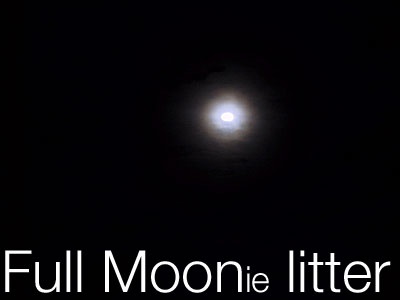 There is something magical about the full moon. And in the present breeding of Kennel BlueBerry it has a certain meaning. Listen, if you please:
Some years ago we very, very much wanted a puppy from our wonderfull dog Paddy. In Holland, breeder Eef ter Mors (Vigilats) suggested us to come and mate with one of his bitches, the beautiful Vigilat's Kissable Lady. So we did. Paddy was tired as we got there late in the evening. But it was now or never: The bicth had to be mated that very night.
After trying, resting and trying again we thought, this was never going to work out.
So we went togehter to a park in the surroundings, just to go for a walk.
It was cool and clear, and the moon was full. It was a beautifull night.
And then, just like magic, it happend.
Nine weeks later we had Meggie, Paddys daughter.
From Meggie we have had two litters, and the first born puppy from Meggie's first litter of course had the name Moonie.
Now Moonie has had her very first litter. And guess what: The moon was full the night her litter was born. The picture to the left is the proof, it was taken the 27th of February 2002.
So we call this the Full Moonie litter! Magic, isn't it!
Wednesday February 27th Moonie had her first litter. Seven lovely puppies were born. It was tough for her, and the birth lastet one whole day.
At first we thought something was wrong, because her temperature would not raise to the point when it was time for birth to begin. So we went to the vet, but never got inside the clinic, cause Moonie had her first puppy (a bitch) in the car just outside the vet-clinic.
Then we went home. After one more hour a male was born.
It took more than two hours more for the next puppy to meet the world, and then the fourth came shortly after. Then number five and six.
Moonie looked as if this was it, and she started to eat a little. But just before midnight the last puppy was born, a bitch. Much to everybodys surprise!