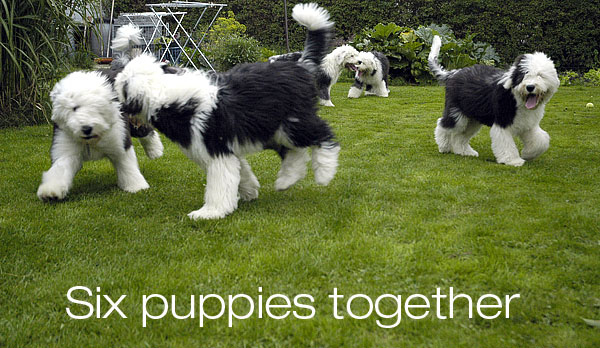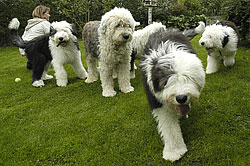 The OES-club invited to barbeque-evening in the forest. But weather was bad, so it was cancelled.
Most of the families to get together where from our latest litter, so it was natural to change plans and move it all to our place in Herringlose.
Lucas, Terkel, Conrad, Kevin, Gizmo and Maise are now 5 months old. They enjoyed the reunion and played in our garden all night long, while we were eating, drinking and talking indoor.
The puppies are about to change teeth, so we had them all on the grooming-table for a closer look.
As a breeder it is nice to be able to follow the pups while growing up, and we enjoyed meeting the five wellkept and welladapted puppies.
Thanks to the people who came and thanks to the Rosner family who had planned it all.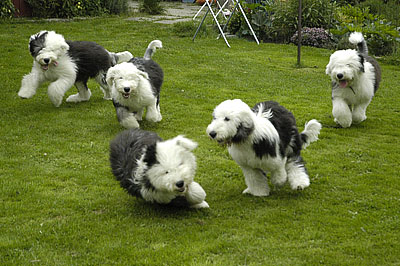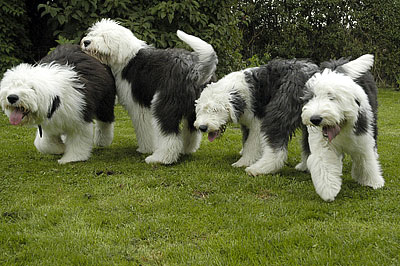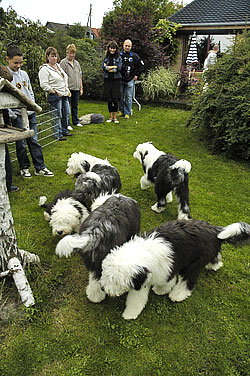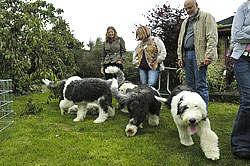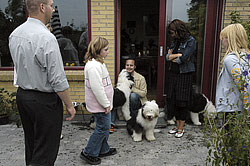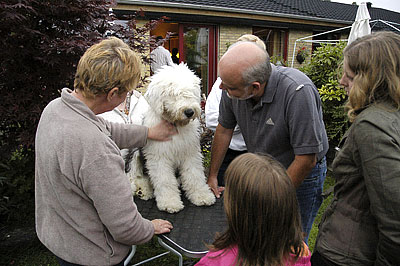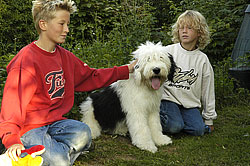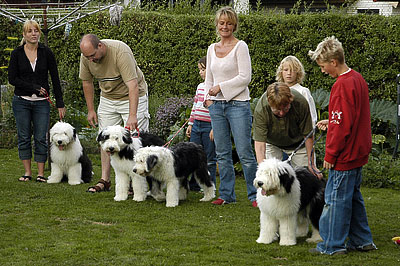 A couple of weeks before we arranged a grooming- and showtrainingday for the puppies. Kevin, Conrad and Sigurd came.
Showtraining means practising how to best handle your dog. It is not easy, when the puppy is five months old and the littermaids are standing close by.
We hadn't seen Sigurd untill he moved from our home, so it was nice to see, he is developing well and doing fine with the three boys in the familiy, Oliver, Oscar and Oswald.
Magnus meeting the puppies.
Wonderfull to see so many of the puppies from our K-litter again.
Terkel on the groomingtable, to get a closer look at his teeth. Both he and the other pups change teeth perfectly and by the way are in perfect condition.
Sigurd together with Oliver and Oscar.
Showtraining is not easy when everyone wants to play.