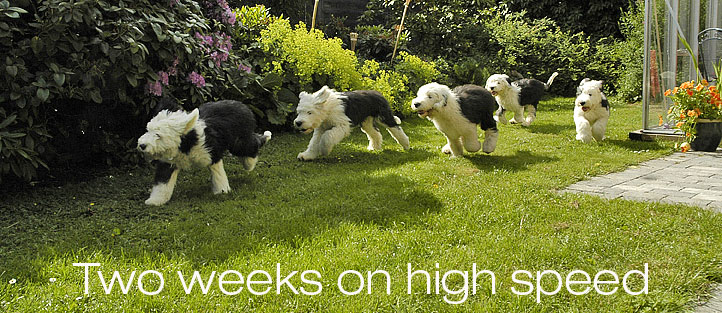 The last couple of weeks have been bussy. We came home from vacation in France and had the two K-litter pups Keegan and Knight put well together again with our own pup Maise, mother Misty and Magnus. Moonie is still staying with family Falch on Ærø. We'll bring her home this weekend.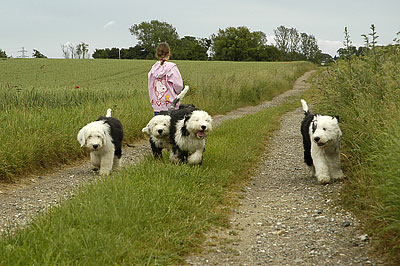 Saturday the 27th of July we invited the K-litter to get-together at our place. But it is summer and the distance is too far for some. So Conrad and family came from Roskilde and Gizmo with Martin came from Frederiksberg.
Gizmo, Knight, Keegan, Maise and Conrad on the lawn in Herringløse.

Left is the puppies on a walk on the road outside our house.
It was really nice to see them all again. Together with our three puppies we spent some nice and vivid hours. We did a walk on the countryroad, had coffee and talked a lot, while the puppies tried to regain the rank. We finished with a short brushing-time.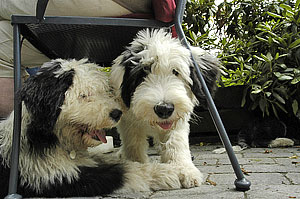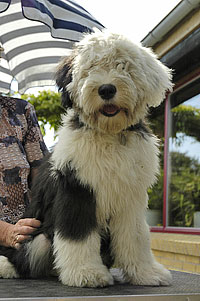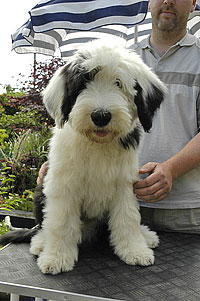 Above and left it is Gizmo and Conrad, first relaxing after playing in the garden, then on the brushingtable for a while.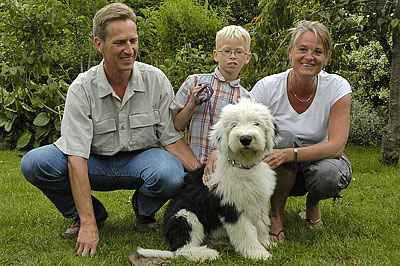 ---
Monday the 27th of June it was time for Keegan to change home. The family Holm from Brande took him home to Jutland. He shall keep his name, Keegan.n.
Friday we drove Knight to his new family Cordtz in Jonstrup just a quarter of an hour from our place. He shall be called Terkel from now on.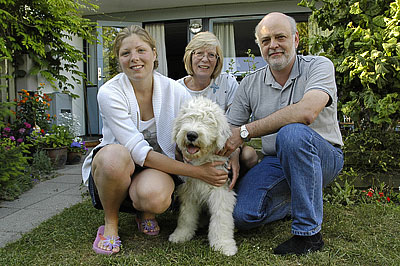 ---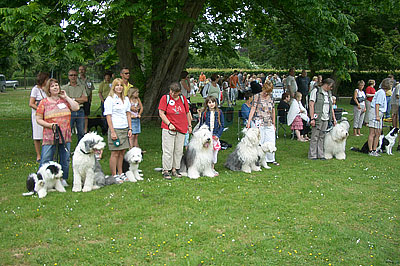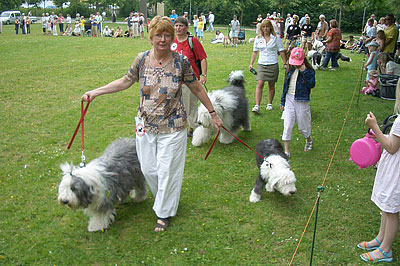 Saturday the 2nd of July there was a dog-day in Slagelse on the west of Sealand.
Birte went and brought Misty and Maise. They met with Tina, who came with Silas and Lucas (K-litter), with Jeannie and Tomas, who came with Kevin (K-litter), and with Lis and Ann who came wth Fnuggi (From the I-litter).
There was a dogs parade, and 'our' six OESs was in it together with Ruth and her Bamse. The three puppies had many experiences, since it was Animal Day on the show, so there was chicken, goats, sheeps, rabbits and horses and of course many, many dogs!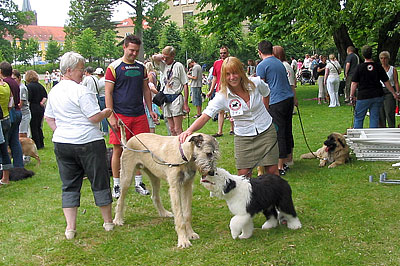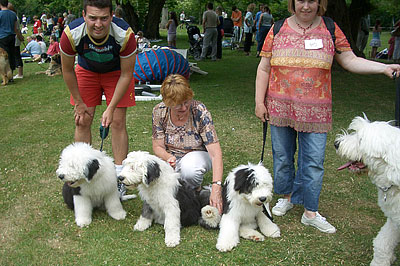 Clockwise from upper left: Many OESs in the dogs parade. Birte with Misty and Maise, behind her Fnuggi and Kevin. The three puppies and Silas right. Kevin meets a very big dog!