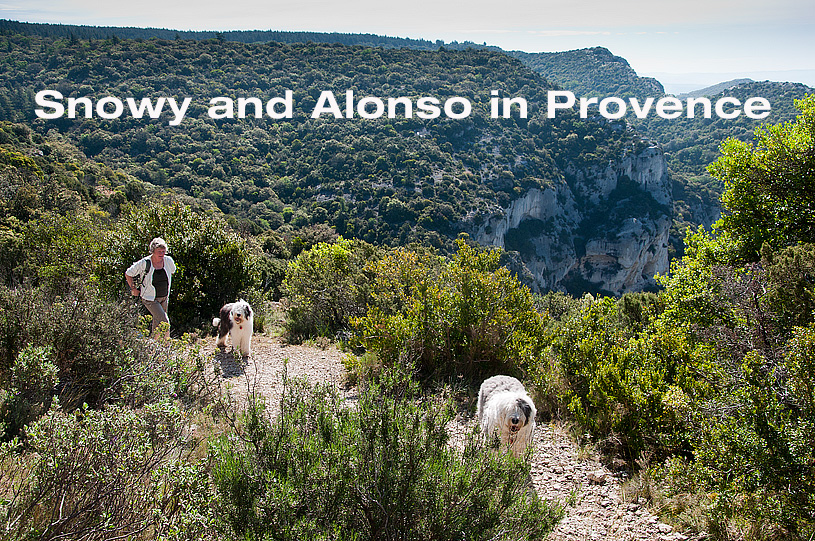 We arrived home after having spent three weeks great vacation in Provence when we had the sad news about Rufs passing away and the great news about Neo's show debut. These two things had to find place on this site very quickly. So you had to wait to hear about our vacation with Snowy and Alonso. But here's the story!

In the middle of May we drove to France – once again!
In the weeks before our vacation we had Victor and Lunte in the house, while their family Falch were in USA. The very day they came to bring their two dogs home, they also took Misty and Maise in the car and drove them to Tåsinge to be taken care of, while we went to France. Meanwhile Snowy and Alonso were in our car, and we simultaneously drove south.
The first night we reached Cologne in Germany, and the next day reached our first destination: Jørgen's sister Helle's house in Lorgues, not far from Nice.
Here we stayed a few days together with Jørgen's mother, brother, sister in law and Helle and her two Bouviers, Pinot and Dipsy.
It was some kind of a journey for little Snowy. She learned, that it is possible to walk in market places and streets without having to say hello to every human or dog there. She also learned to lie down under a table, while her people spent some time in a café or restaurant. This experience she benefitted from during the rest of the vacation. And she did really great, considering she was only four month old.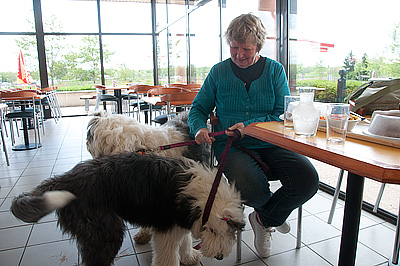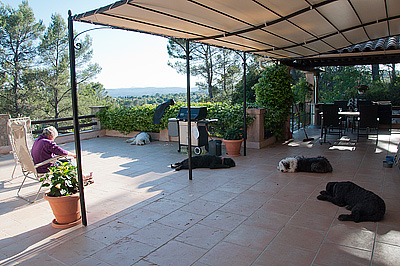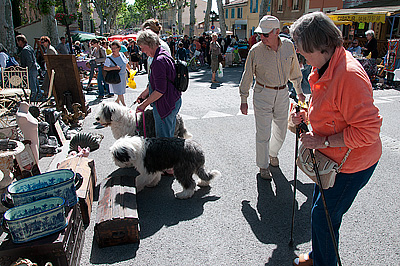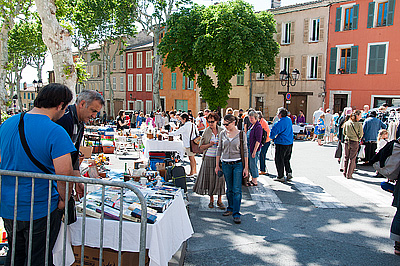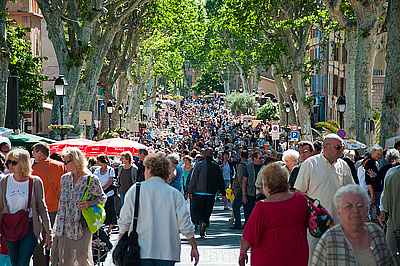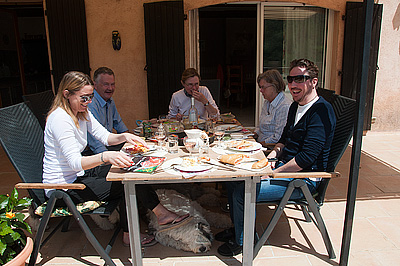 Birte with Snowy and Alonso on top of the Luberon Mountains.
Stopover in a french highway restaurant.
Finally we reached Helle's wonderful house in Lorgues.
One of the days there was a huge flea market, and we brougt Snowy and Alonso to se the stuf.
Lorgues filled with people at the flea market.
Local market in Draguignan and a stop at the best butcher!
May is time for broad beans and artichokes.
Jørgen's family having lunch on the terrace in Lorgues.