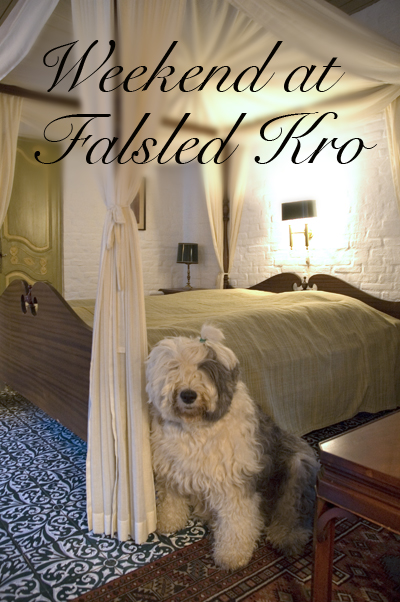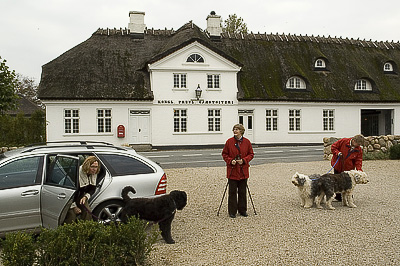 Most people would choose to let their dogs stay home, if they go for a gourmet-weekend in one of the best restaurants in Denmark, Falsled Kro. But not us!

Jørgen's birthdaypresent was a weekend on the beautifull Faldsled Kro (inn) on the island Fyn. On the tour was Birte and Jørgen's mother and his sister, Helle.

We brought Magnus and Misty, while Maise and Moonie were taken care of - as usual (and thank you for that!) - by the family Falch on Tåsinge. Helle brought her nice Bouvier, Pinot, with her.

We arrived the 13th of October, after having placed Maise and Moonie at the family Falch, where they had a good time with OES' Lunte and Victor.

The stay started with a pleasant lunch in the garden-room at the inn. Then we had our rooms and the dogs began to feel comfortable. So did we!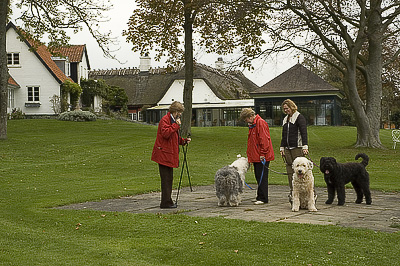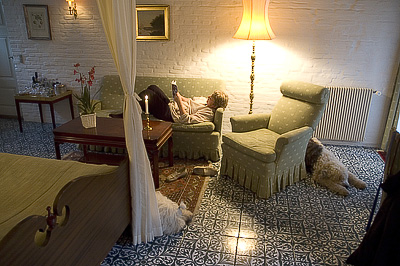 Upper left it is Misty, in front of the huge bed in the fancy room. Upper right we arrive at the old inn in Faldsled. Helle and Pinot, Jørgen's mother and Birte with Magnus and Misty.
Then it was time for a walk along the beach. We looked at the wonderfull archipelago of South-Fyn. But so we needed a time of relaxing, dogs and human, before we got ready for the super dinner.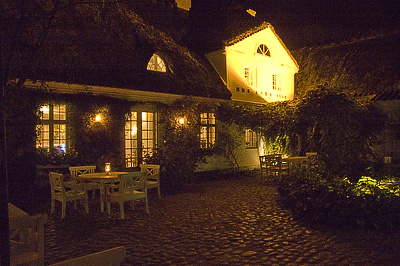 We brought no camera to the restaurant at night.
Chef Jean-Louis Lieffroy and his staff made an excelent six-coure dinner including a wine-menu. We enjoyed it very much, while our dogs were relaxing in the rooms.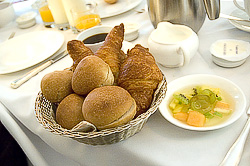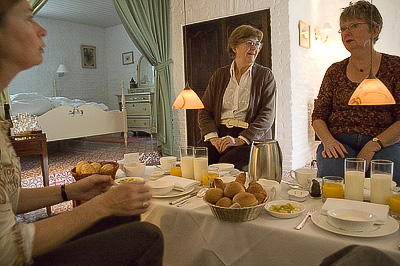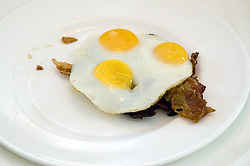 Before we went to bed, the dogs got out for a walk, and then we all slept untill morning, where we ended the stay with the breakfast for which the inn is famous.

Homebacked bread, croissants, freshly squeezed orangejuice, fried quail-eggs, youghurt and lots more!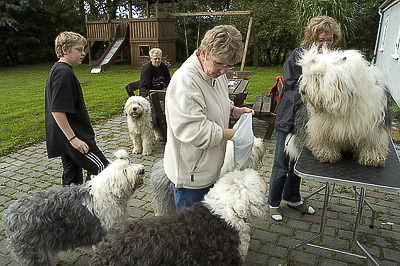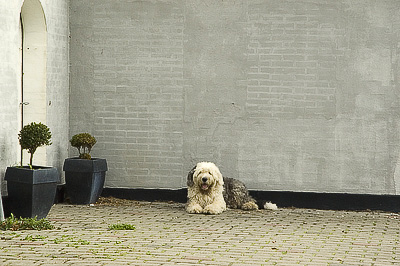 So we drove back to Tåsinge, where Moonie and Maise waited. They had had a really good time with lots of walks. Birte helped Bodil grooming Lunte, so he got ready for an upcoming dog-show.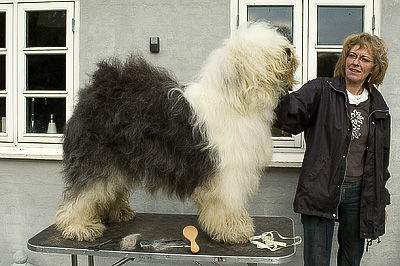 Victor was laying in a distance, while Rasmus, Ejnar and Jørgen prepared lunch. We were not very hungry after the loads of food we had at Falsled. But it was good to be back with the Falch's again - both the two-legged and the four-legged!
Thanks for taking so good care of our doggies!