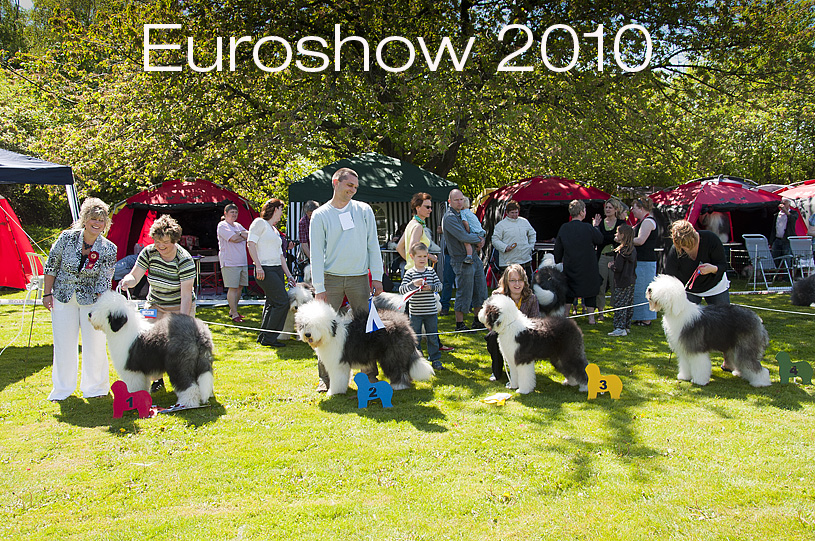 No less than 150 Old English Sheepdogs from 15 countries met in Nyborg Strand to the Euroshow – a weekend with showing, obedience, great dinners and lots of getting together.

For us it was a great weekend. Especially because we spent the time together with so many of our nice puppy-buyers, friends and of course "our" puppies.
We went to the show Saturday. Birte together with Herdis were in charge of the Silent Auction. An auction with a lot of great things with, about or of OES' – sponsored by OES showers and friends.
The Danish OES club stand was taken care of by Michael, Mikkel, Karina and Iris (from our I-litter).

With us we had Misty's breeder, Sue Noyce, her friends Sue Jones, Lene (Birte's daughter), Eva and Annelie from Sweden and our dogs Misty, Maise and Alonso and Eva's Ebba from our M-litter.
Saturday Tina, Lis and Ann came with Toddi and Luna from the L-itter, Søren and Rie came with Nessa from the N-litter and Carl came with Dina from the N-litter. Bodil and Einer also came and brought refreshments for the dogs and us.
Saturday night there was a casual dinner. It was also the end of that day's Silent Auction. We had a great time talking around the tables. But we went to bed early.

Because Sunday was the big show day, and we should get up early and make the dogs ready. Sunday Carl came with Dina from the N-litter, Bettina and Søren with Ludvig (N-litter) and Susanne and Arne with Luffe (N-litter). No less than eight Blue Berry dogs were in the show ring. The four puppies all had SL /very promising) and fine critics. Great!
The four adult dogs all had VG (very good) and fine words on their ways. It was nice on a day where many champion dogs only had Good.
Bodil and Einer took home Saturday evening with Misty. They came back again with Christina the next day and helped taking care of our dogs. Kit and Sofie (who have Sofus from the M-litter) came without dog Sunday and joined the gala dinner in the evening. But we had to leave just after the show. Sue and Sue should with the early plane to London next day and Eva and Annelie should go for the long trip to Dalarna in North Sweden.

The weekend was a wonderful reunion with OES-friends from Denmark and abroad. For instance we met Johan from Holland; he once had a litterbrother to our late Meggie. We haven't seen him for many years. He brought and showed a new, pretty puppy from Eef ter Mors. Eef and wife Rita were there too. Eef showed wonderful Tomte Tummetodd who had gotten veteran. We also spent time with Henriette who showed Rosa, and Yrsa who did very well with Selma in the ring.

Thank you all for coming and making the Euroshow weekend something very special for us.
Thanks to the Show Team for a really great weekend with a perfect show.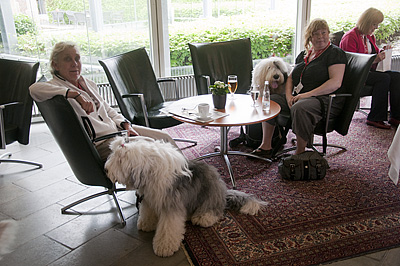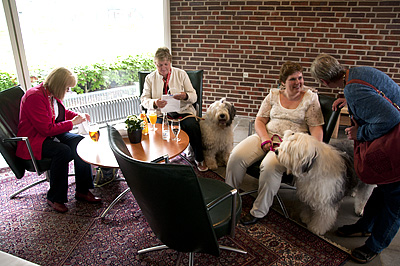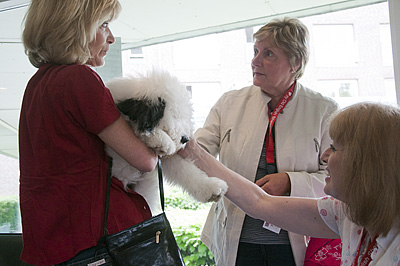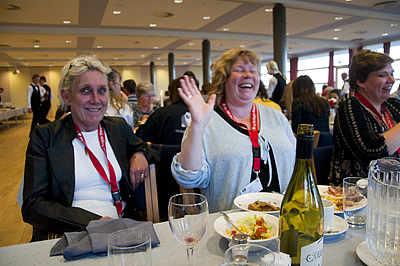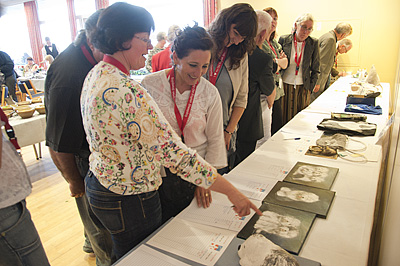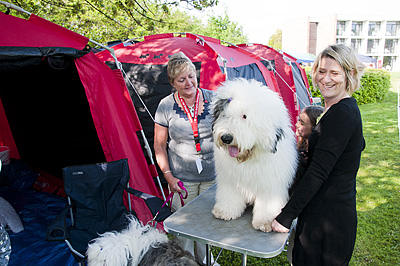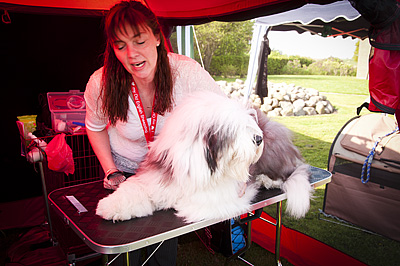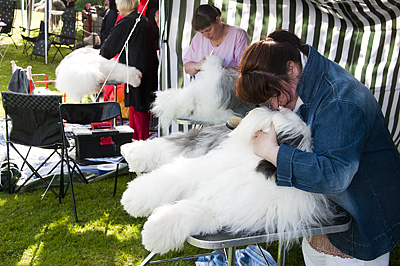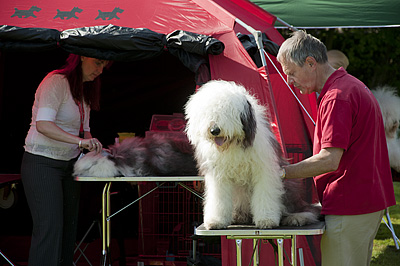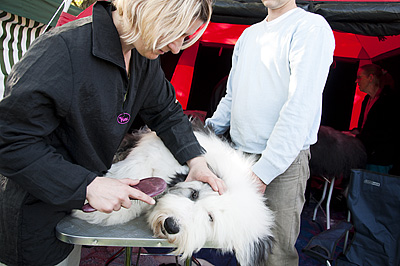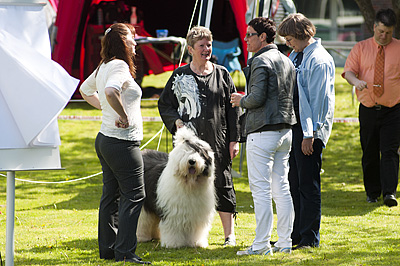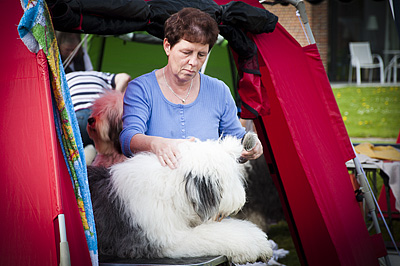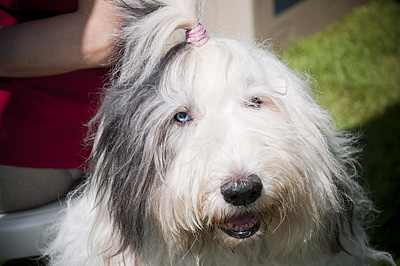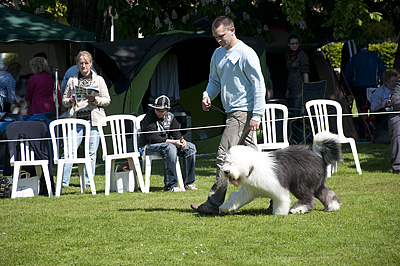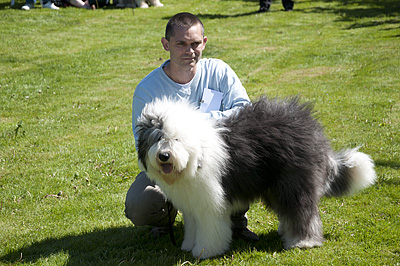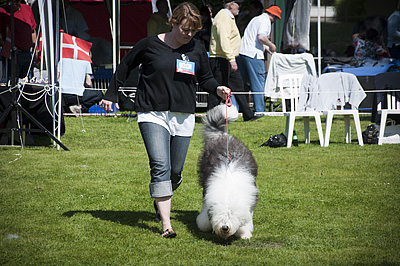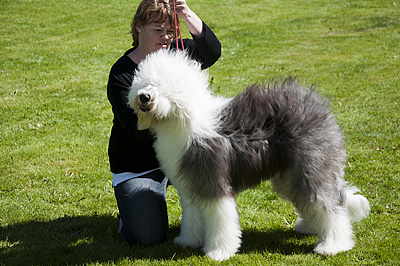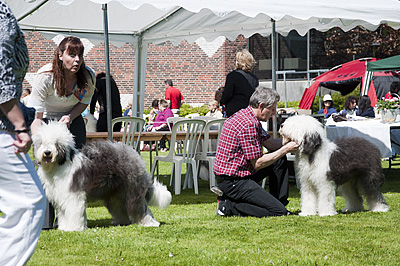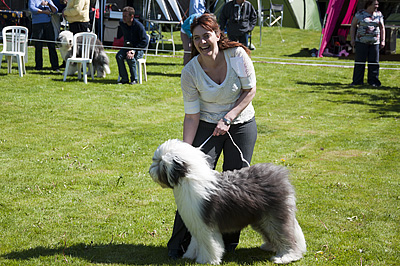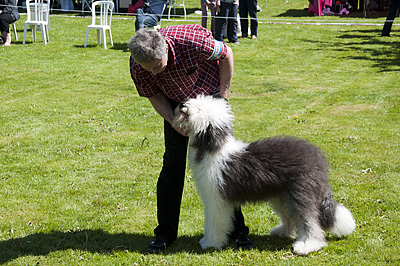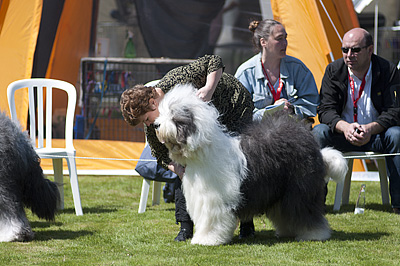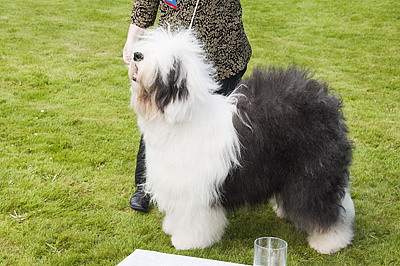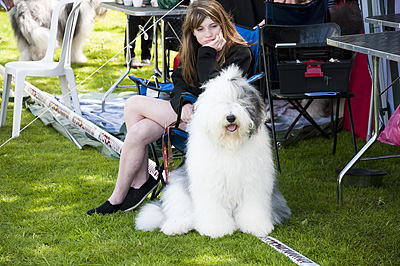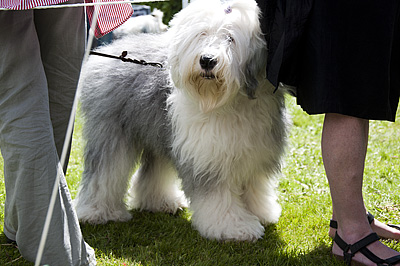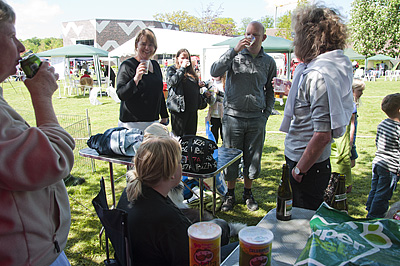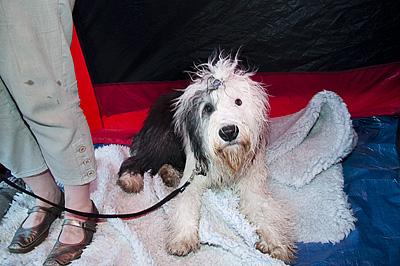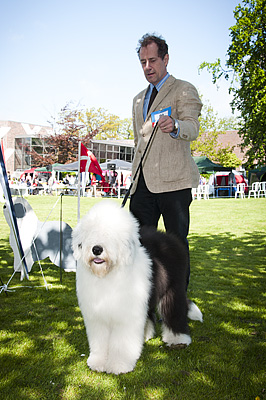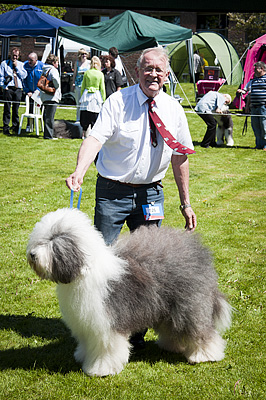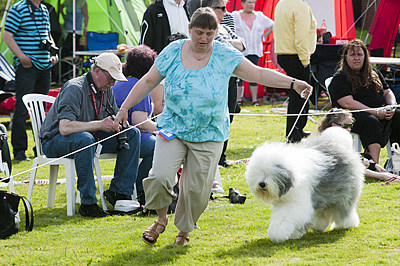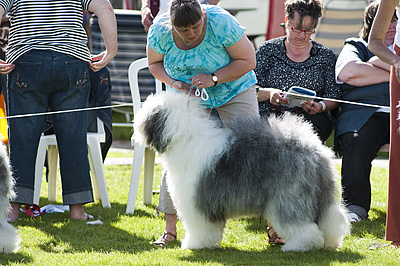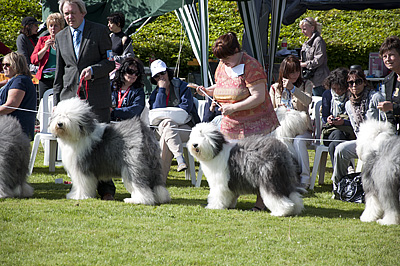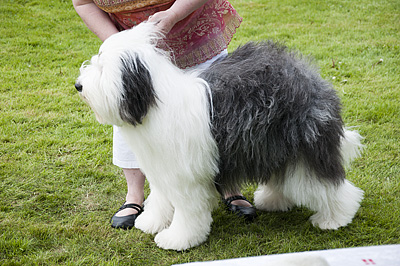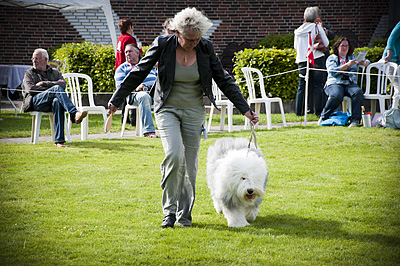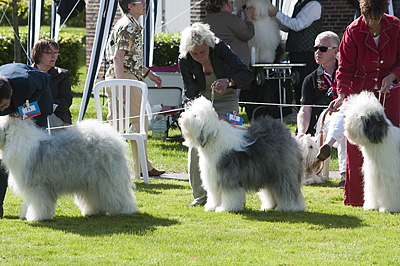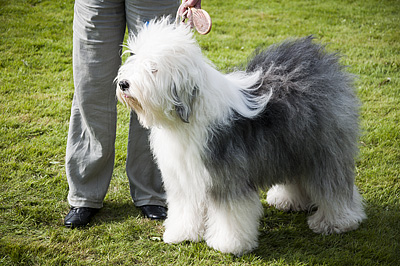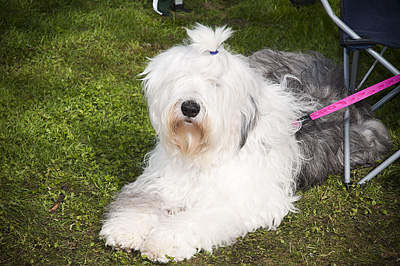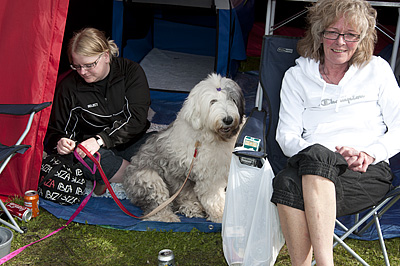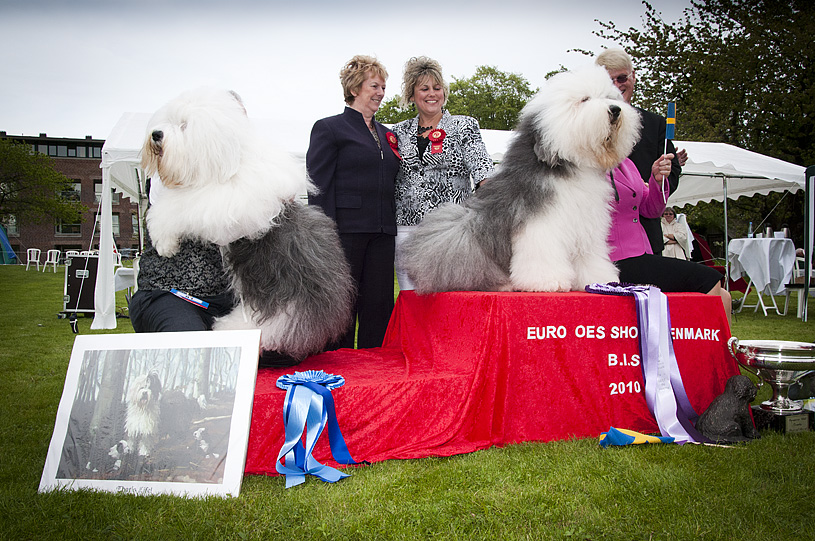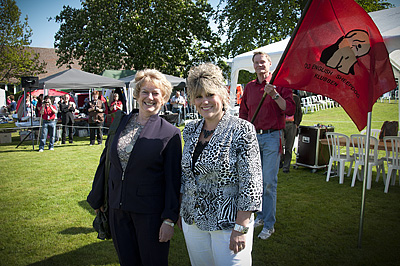 Puppyclass males. Number two from left is Luffe handled by Arne. Number four is Ludvig handled by Bettina.
Eva with Ebba and Annelie with Alonso.
Sue, Sue, Misty, Lene, Maise and Herdis.
Dortemarie with Sound Solution Heres Comes The Sun - and Sue and Sue.
Eva and Annelie at the Saturday night dinner. Lene to the right.
Silent Aucion just before closing time Saturday night.
Luffe on the table. Sue to the left and Susanne to the right.
Bettina and Søren with Ludvig on the grooming table.
Rie with Nessa on the grooming table.
Lis with Toddi and Tina with Luna.
Carl with Dina. In the tent Rie with Nessa.
Birte and Alonso talking to dog friend.
Arne in the ring with Luffe.
Bettina in the ring with Ludvig.
Rie with Nessa, while Torben is showing Carl's Dina.
Waiting time.....Ann and Toddi.
Sofie won a toy dog and a dog lead with umbrella!
Ebba looks very much like her mother, Maise.
Time for relaxing and a drink after the puppies have been showed.
Luffe had a swim for the first time - he loved the sea!
Eef ter Mors from Holland with his veteran Tomte Tummetodd.
Lis in the ring with Toddi.
Eva in the ring with Ebba.
Eva and Ebba inopen class bitches.
Maise was happy to join the show weekend.
Christina and Bodil (and Einer) took care of Misty.
The judges: Mrs. Sally Duffin-Penney and Mrs. Kim Reeves.
BIS (right): WW08 SECH NOCH DKCH NORDCH FICH Dizzny'z Taxi Driver og BIM: INTCH ITCH CHCH LUCH FRCH SMCH ATCH DEVDHCH DOESCH Manrose Marquesa Di Brera med de to dommere.
Johan with Vigilat's Myfanway Moina.