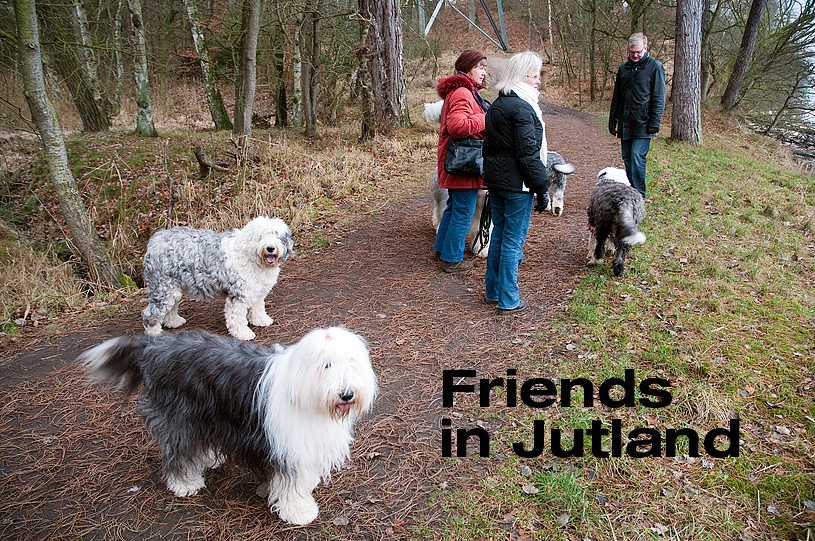 It had been some time, since we last saw the Dyrvig Family in Fredericia.
So we managed to find a date suitable for us all, and off we drove to Jutland.
Dyrvig have Tobias from our H-litter and Me-Too, which originally was brought home to us but later replaced to them.
But first we went to visit another one of our puppy buyers. Louis, (Alonso's brother) and family also live in Fredericia. We arranged to go to their place.
Just like Alonso, Louis' coat is shifting at the moment, and it is hard work to keep it nice.
Heidi who grooms Louis told us that she had problems getting Louis to lie still on the grooming table. But Birte showed her some tricks, and told how she could handle the knots on stomach and legs. Besides that Louis looked fine and was just as happy as his bother Alonso.
In front it's Me-Too and then Misty.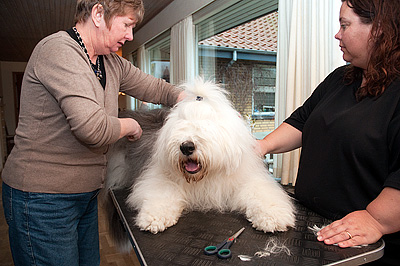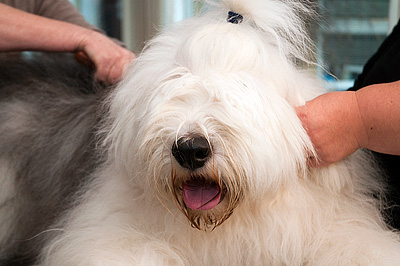 Louis got on the grooming table. Birte showed Heidi, how to manage an OES-coat that is changing.
Then we drove to a beach near Lillebælt, and met with Lone and Poul-Erik Dyrvig and the dogs. It was a wonderful reunion for both the dogs and us. We had all our dogs with us, and old Moonie had a great time when she jumped into the sea for a cold bath! We went for a nice walk and indeed were surprised, when we saw two bikers heading against us on the path. We pulled the dogs in. But suddenly one of the bikers climbed off the bike and said: Hello!
Much to our surprise the biker was Niels. Until August he had a dog from us – actually it was a brother to Tobias – Ib. Ib got sick and died in August. Since then Niels has asked us, if he could buy a puppy from our next litter. For sure! Niels was just as happily surprised over the most unexpected meeting at Lillebælt as we were.
After the wonderful trip we drove to Dyrvig's home. They served a super lunchand we spent the rest of the day having a good time, until we headed back to Herringløse.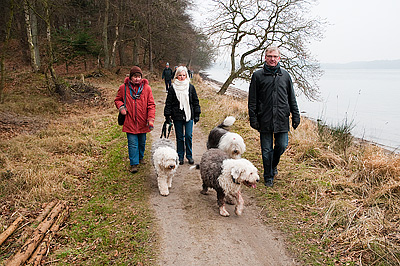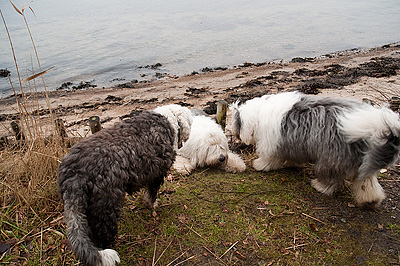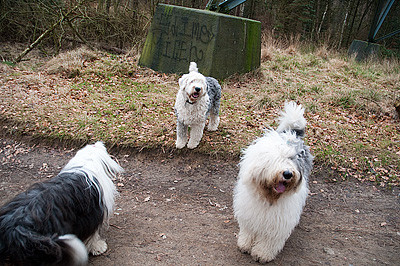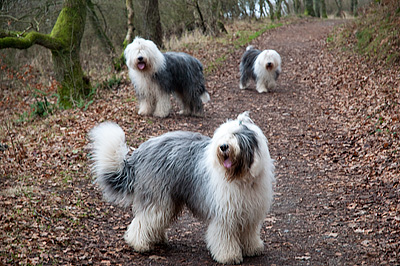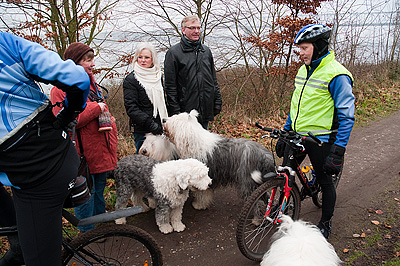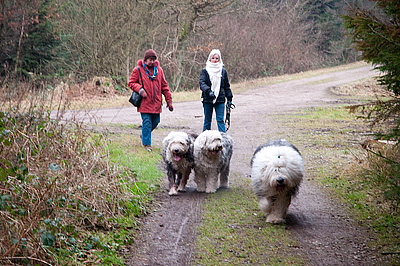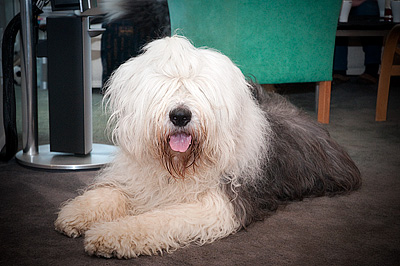 Misty, Moonie and Me-Too.
Tobias found it hard to get up from the beach.
Me-Too, Maise and Alonso.
In front it's Alonso, then Tobias and Me-Too.
Suddenly Niels stopped his bike on the path.
Moonie, Misty and Tobias.