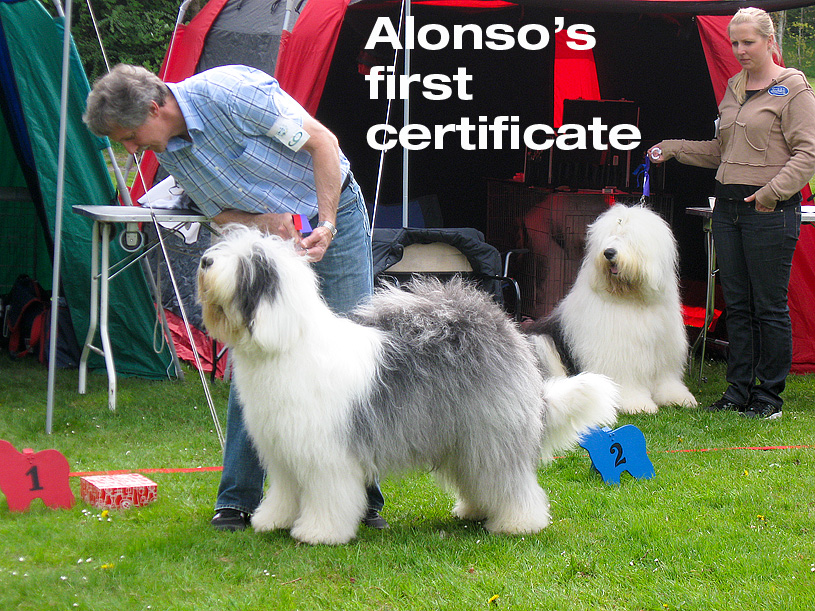 There were two shows in the area around Aalborg (North Jutland) on the 2nd and 3rd of May.
Alonso was entered in both shows and so was his sister, Toddi.
Jørgen stayed home and took care of our three bitches, while Birte with Alonso and Herdis drove of.
Rie and Søren live in Aalborg and they had invited us to come and stay in their house. We enjoyed their great hospitality, and Alonso all the attention he was given.

Saturday the Danish Kennel Club had their show in Gigantium and 18 OES' were entered.
We had borrowed a tent. So with the tent, the show-cage, grooming-table and lots of other stuff it was a hard job to get to the show ground. But once being there it all worked well.
Both Alonso and Toddi did very well. They got Ex. and both became 4th winner in the male- as well as the bitches' class. Their father, Tino, was best of breed. Best in opposite sex was Foxy – NUCH Lykkegårdens Highlight 2005 – who also became Danish champion.
Congratulations to Foxy's owners, Hanne and Vidar, who took over Foxy after Winnie passed away.
Saturday night we spent together with lots of other OES-owners in a restaurant in the heart of Aalborg.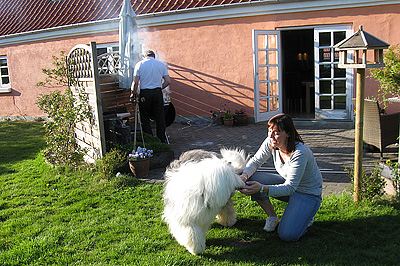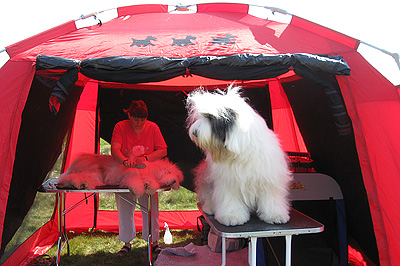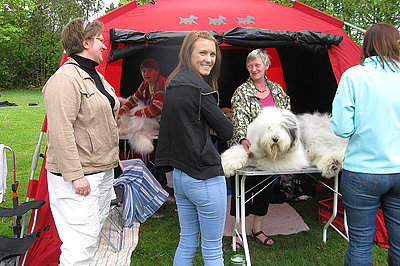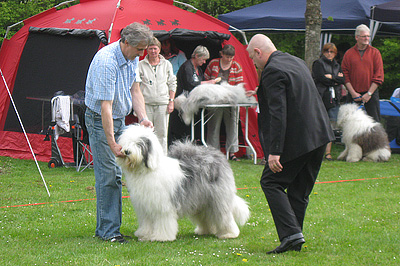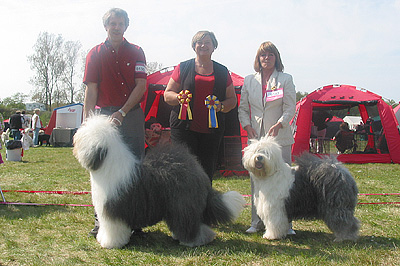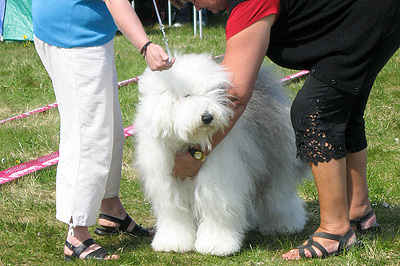 Sunday the Danish OES Club had its Special Show in Vadum with 25 OES' entered. Judge was Michael Leonard, OES breeder from Ireland.
Again Alonso got an Ex. and was placed as number 4 in the male class. But since the three dogs before him already were champions, he got his first Certificate. Boy was that greeted by cheers in our tent!
Thanks to the band of cheering supporters! The band consisted of local OES-breeders – Christina and Cecilie, who own Nanna from our I-litter – and all the OES friends from the Sæby Tour.
Also Toddi got an Ex. But she was not placed in the bitches' class. Later on Toddi was selected as best young dog, privately owned and handled, while Alonso got the trophy for being the best young dog.
Best of breed was DKCH Danish Delight Knock Out, and best in opposite sex was Tino, DKCH Sound Solution Ground Control. Congratulations!
Later on Ann went into the ring with Toddi in junior handling. She did very well and got lots of fine advices from the judge.
When the picture should be taken, both Ann and Toddi were very tired and forgot all about how an OES show dog should stand and be groomed.
Jesper Ravn was judge candidate and on that very day he was ready to be judge for OES. Congratulations, Jesper, we look forward to seeing you in action.
We were very tired when we got home Sunday evening after a lovely weekend.
Thanks to all of you who arranged the show, opened their home, followed, helped and cheered.
You all made this weekend very special.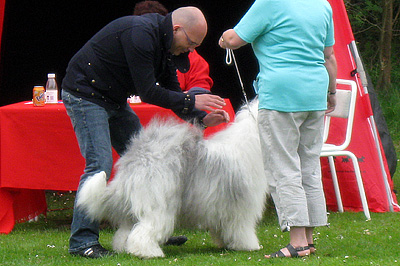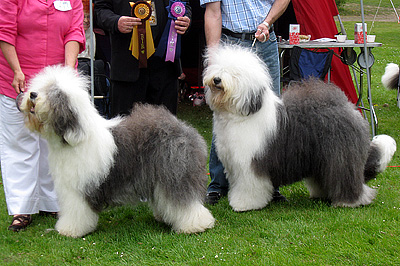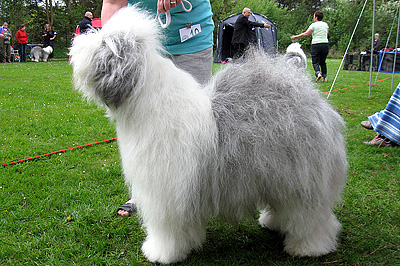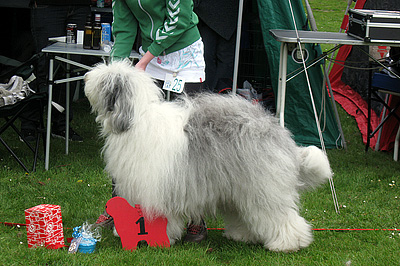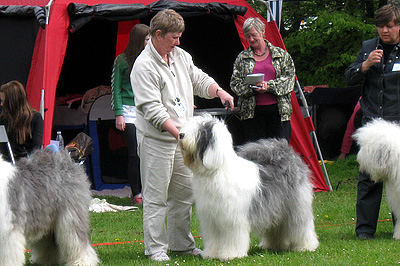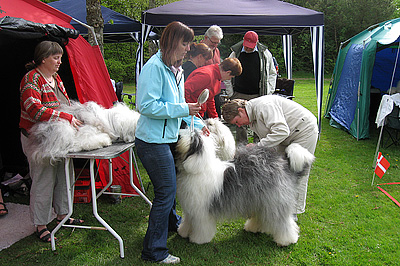 Alonso having a good time on Rie and Søren's terrace.
Lis grooming Toddi, while Alonso is taking a look around.
Christina and Cecilie from Vodskov came to see us.
Alonso in the ring with Torben.
Toddi in the ring. Lis handling.
Best of Breed and Best in Opposite Sex, Saturday: Tino and Foxy.
Photo: Johnny Nielsen
Working concentrated just before showtime.
Birte handling Alonso, since Torben is in the same ring with Tino.
Judge candidate, Jesper Ravn, examining Toddi.
BOB and BOS on Specialshow. Knock Out and Tino.
Two photos showing the same dog. See how show-grooming can change the result. But it should be said that Ann (right) and Toddi both were very tired when it was time to have the photo taken after junior handling

The four selected dogs in the male class on Specialshow. Tino is number one and Alonso number four.